IMAGE
Edward de Bono developed a simple and effective way to facilitate more productive meetings by utilizing different perspectives. Remember, these six hats represent perspectives, not people or personalities. For this method to be used effectively, each person in a meeting can and must be able to wear each hat in turn. Here's a brief description of each hat: White Hat: The neutral White Hat offers objective facts and figures and is used near the beginning of the meeting Red Hat: The emotional and intuitive used to get people's gut reactions Black Hat: The cautious Black Hat is used when you want to get the critical viewpoint of an idea or situation. Yellow Hat: The sunny and positive Yellow Hat helps identify the value of ideas and plans. Green Hat: The creative Green Hat comes on when you want to generate fresh ideas and new directions. Blue Hat: The organizing Blue Hat sets objectives, outlines the situation, and defines the problem.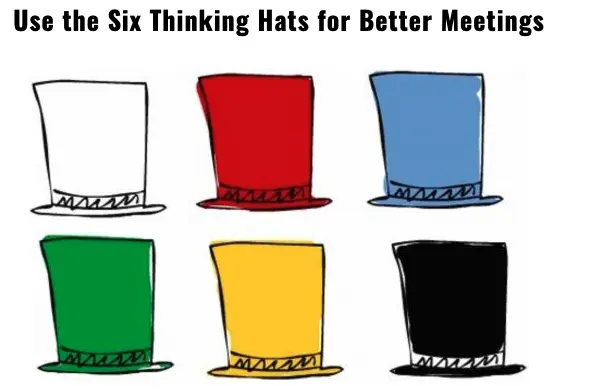 comments
and what is the raj's hat?
Ok, this is super interesting. Didn't know about this at all. 😁👊
Happy to hear :)
This Post is on the Global Feed:> 💎 We are BACK!!! Did you miss us? Let us know- > 💎 💎 💎
good👍
Red!
Black 🖤