quoted repost
Now you're apologizing? I shit you not fucker I would've accepted you first apology if you hadn't been posting after that of another series of me being a scammer and wow you already shittified all of your image of your fucking self because of taking your apology back FUCK YOU
let's see if this is the kind of person you want on your nodes, @deso @nader @mossified @Dylanjaggerlee @erikaechaniz considering there are children here also. if there are no consequences for this type of behavior, why would it stop? remember, they can simply create their own node.
comments
because it seems likely: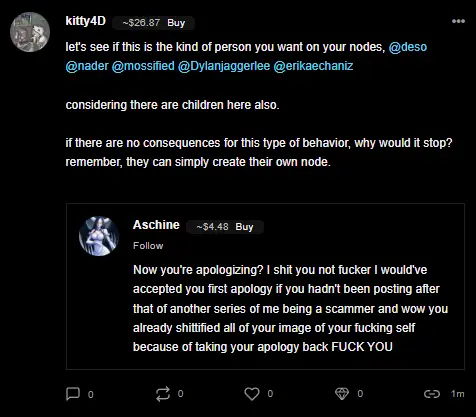 You stay in some drama. Like brooooo.
and what other drama are you thinking of? this is the only "drama" i can think of. unless you just mean pointing out issues with the platform. this isn't exactly drama though. this is like, watching someone commit suicide or something. i don't know what this guy is doing. i'm not even bothering trying to tell him to just stop anymore. let him keep dig dig diggin'.
if you think that i should have reasonably expected this from what i originally posted, well, you've got an even crazier imagination than i do. :D but - wow, i'm totally okay with the way this has played out. i don't even think this one guy could make himself look worse now.
We don't talk so you don't know my tone lol. I love it. keep posting!
Even if "I" create my own node its still on top of deso you dumbass
oh please, explain to me more how this works
Shut the fuck up, don't dilly dally with me go fucking study you shitbag, it's all available in the "INTERNET" where I stole contents right? ShitbAg
because i hate to let you think that my comment was to be taken at face value, and no one at @deso is doing anything yet - ( @erikaechaniz @Dylanjaggerlee ) i am a SWE, i work in DeFi, and i understand very well how all of these things work. if you are banned from the node(s), yes, you can create your own node on the blockchain. that was my point. i don't need you to explain anything to me, in other words. if you joined in the last week, it's interesting you would have thought to make that unnecessary comment, though hope you can find peace someday.
You're talking about children huh? There's a lot of fucking posts of nudity here you think this is the worst? Maybe for you because you want to escape to your fucking mess that you started shitbag
Well I shit you not ask anyone who I've been shittalking with except you, now tagging others to side you? Fuck you that's the move of someone as shitty as you