Post by kitty4d
2022-01-29
• 7 months ago
IMAGE
so, there is a terms of service on identity.deso.org - does this mean that TOS applies to any site/app that uses it for logging in users? i notice TOS is NOT shown when you Login with Seed Phrase. and a person can generate their seed phrase anywhere, so what's the TOS covering? considering any seed phrase that works technically already exists. since the TOS can change, also, it doesn't make sense to only be accessible when generating a new seed phrase. but the TOS is on node.deso - what is the "Interface" exactly? (this is a multi-post, click~)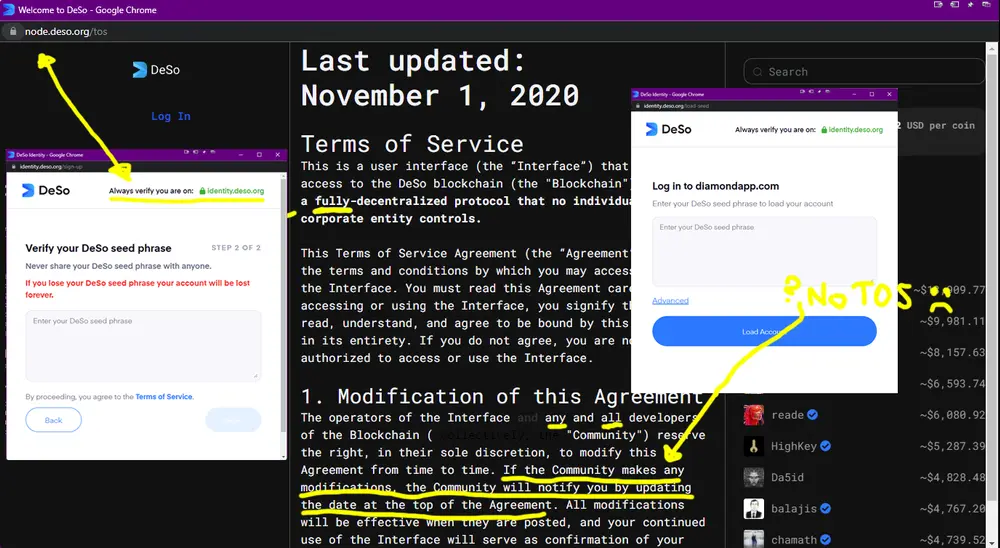 comments
kitty4D
2022-01-29
• 7 months ago
but yes, so what is the "Interface"? is it the individual site/app that is using identity.deso? is it strictly using identity.deso to login? how are these enforced? "If you do not agree, you are not authorized to access or use the Interface." so what does that mean? what if someone still does?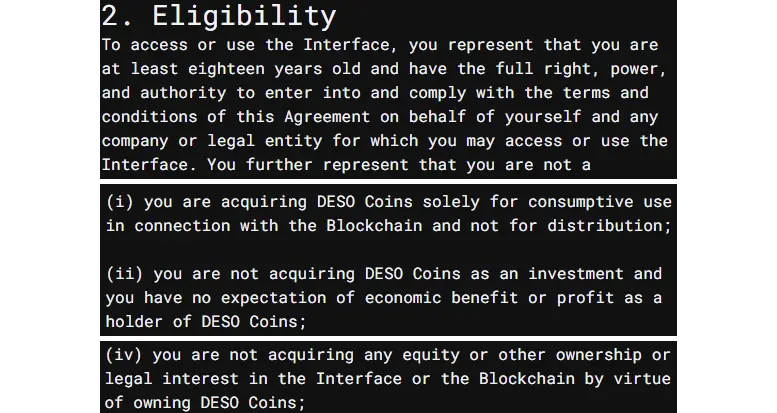 kitty4D
2022-01-29
• 7 months ago
also- the "Community"? it sounds like the "Community" controls everything? what exactly? ok so operators of the Interface, so the Interface is the NODE? but the TOS is on the Identity module and is hosted on node.deso. and any and all developers OF the blockchain - what's that mean? what determines a developer is one OF the blockchain, because "the DeSo blockchain, which is a fully-decentralized protocol that no individual or corporate entity controls." okay, so anyone can say they are a developer of it, since there is no one to assign such roles..

kitty4D
2022-01-29
• 7 months ago
oh, crap, time to pack up shop y'all. we expressly forbid basically any new user from using the system~ and probably quite a few long-time users too LOL

kitty4D
2022-01-29
• 7 months ago
so why is this LUXURY only extended to reserved profiles? what about children, or anyone else really? who made this commitment? was it the node operator or the Community?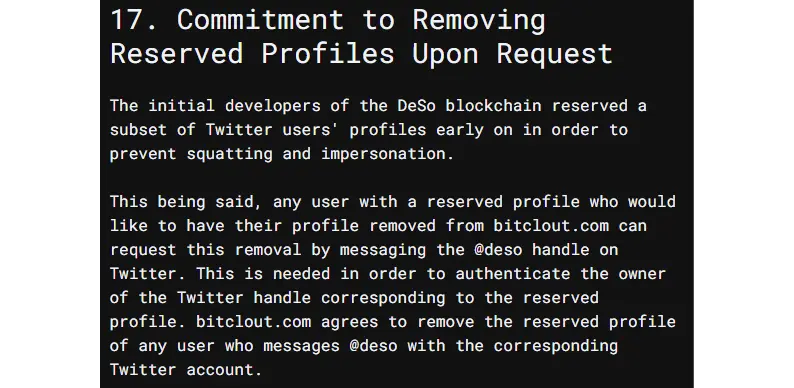 kitty4D
2022-01-29
• 7 months ago
anyway this thing is a mess and who can actually enforce this? but i guess the question is, what is the Interface? and if someone breaks the TOS at another "Interface" OR another site/app simply doesn't have a TOS and people use it who are forbidden from another site's TOS, what good is the TOS anyway? it will appear as if those people accessed the Interface described in the TOS. that node still validated their data on the blockchain right? so what then is even the point of the TOS? i know what the point SHOULD be, i'm just asking.
smartape
2022-01-29
• 7 months ago
good luck on getting answers... 🤣
kitty4D
2022-01-29
• 7 months ago
i guess other developers think they're going to cash out before this kind of thing catches up to everyone. really the devs should want to know they are not at any risk, and no development happening would force these answers to come out. it maybe doesn't speak so well for the products that may be coming out if no one thinks there aren't questions to be answered... but who knows! it's good to be betting on both a crypto AND that there won't be any fines or penalties coming your way someday. always good to amplify one's risk LOL
ECOE
2022-01-30
• 7 months ago
Hi kitty4D... I've neen trying to get a lot of this accoss to the core team since October when I first started noticing a bunch of it... - But this you discuss here is somewhat hidden whereas other things are not... there are in fact issues wide open in public view that are in bteache of US Laws. I finally raised such a stink here, then on Twitter and finally in the NFTz_Zone invite-only Twitter chat, where I finally got a response from the DeSoProtocol Twitter acct (Dylan, runs that, I'm told) to which end I was directed to send in an email to support@ deso .org containing the information, and Nothing. Nada. Zip. Never any reply back even to multiple re-emailings asking about it, DMs to Nader & Dylan on Twitter (Alex has his shut off for those he doesn't follow), as well as to all 3 in DM here on DeSo, and the page at deso .org remains unchanged to this day with no one having answered with so much as a Like. The laws in breach are serious too, as I know with having had a run-in with this issue many years ago and the website involved was shut down in a heartbeat when it was found out. These are not just civil, misdemeanor or even felony level, these laws are issed directly in line with homeland security of the USA and other nations all having agreed to theae laws and to ulhold them, directly issues by the US State Department > US Treasury and a cild agency created in that order to manage it all... but what's worse is that all of it could be fixed in a few seconds and it all falls on deaf ears. I've even offered to do properly wrote up the TOS, PP and even a Disclaimer that's NEVER been written for DeSo or the members, all free, no pay at all. So... Ah well... - Thanks for the opportunity to vent.
kitty4D
2022-01-30
• 7 months ago
i know the stuff that's right there, too. i've also brought it up, i guarantee if i don't see anything done about it, the people who need to know (devs) i'm telling because they need to know. if i haven't gotten a response in a couple of days, i'll be pushing very quickly to figure out what's going on and i won't wait much longer after that because it's already not easy knowing it now. i looked into the TOS like this because i thought the response might be that that covers it. so now i've shown it doesn't cover anything, just to clear that up lol.
ECOE
2022-01-30
• 7 months ago
I gotchu... yeah have to say in my all my decades working w/teams in remote online efforts this is a frontrunner for being the # 1 void I've ever seen... seems not even threat of waking up to potential suit, charges or even dead-time sitting in Guantanamo Bay phases this crew... and all over not doing something so simple as deleting a few words off one (1) web page can be the end of it... solution accomplished... it's sad
kitty4D
2022-01-30
• 7 months ago
oh, i don't know what it is that you found, then. so i have no idea! that's not what the thing is that i am bringing to their attention. :D
ECOE
2022-01-30
• 7 months ago
Typos get pretty heavy for me just before 4 AM lol... woke up again @ 7AM9ish but keep nodding off... need another nap already.. I don't see anything on Twitter yet so will wait 4 that
ECOE
2022-01-30
• 7 months ago
It's on top of it z icve neen after them for wht you've written about too... But far more - if you've got an audience with Alex Içll have all the info ready to go... Alredy gave it to them amd it was ignored as I said... Maybe you're going to have better luck Later this morning though I gota lay down 4 a bit ciao
hugetiny
2022-01-29
• 7 months ago
Remove or rename?
kitty4D
2022-01-29
• 7 months ago
so they can't actually rename. they can't do anything to wipe an account as far as i know except delete the hosted image/videos. individual nodes can wipe the email/phone, and any off-chain data. but username, bio, posts are all on-chain and would require the person's private key to change.