Post by kitty4d
2022-01-28
• 7 months ago
IMAGE
quoted repost
chriscelaya
2022-01-27
• 7 months ago
Hmm. I think I'm understanding a bit more clearly. Trying to view your perspective on this. I'll think on it for a few
sorry, quote re-post in order to include an image- what i show here would be a huge improvement in my opinion, even if we have to type the tags with a hash - though, one of the benefits of using a separate field, as long as we use a clear delimiter, we don't need to waste space storing # with every tag. a node could only have 5 categories, for instance, and instead of this text field, there's 5 toggleable buttons. but it'd be stored the same way on-chain. if you thought i meant simply eliminating a tagging system, that's not what i meant :)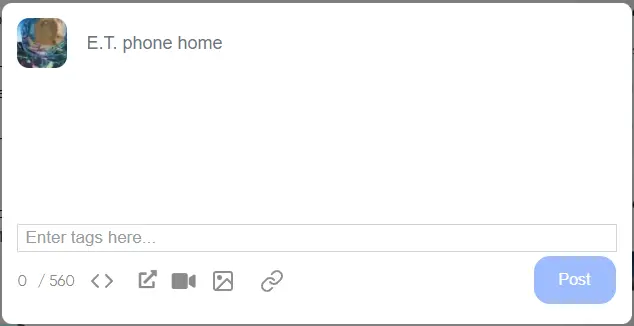 comments
chriscelaya
2022-01-28
• 7 months ago
now I get it 🤦🏻‍♂️ i feel so dumb lol
kitty4D
2022-01-28
• 7 months ago
now i'm just trying to find out how to know what if anything we need to do as developers to be in compliance with COPPA, have you ever seen anyone talk about it? oh, maybe @Ribal knows about this since i am pretty sure all apps on the App Store have to deal with this. though apps might be easier to deal with since you can select age range and the App Store itself can handle age gating. there's nothing in the docs so i just don't understand why the question doesn't seem to have come up and if someone knows why it's not a concern i'd love to know lol
chriscelaya
2022-01-28
• 7 months ago
There's a lot that can be done. But there's also a lot that's been implemented already. Especially on iPhones
kitty4D
2022-01-28
• 7 months ago
it gets weird cause i guess technically @ is tagging a post with a user, i didn't mean those tags, but i hadn't even thought about it at the time. since the use of the hashtags hasn't really happened everywhere (i think it's on a few sites), it's still a good time to be able to make this kind of change, before everyone settles with the way it is now. one thing i didn't consider, when nodes allow a lot of text like 5000 characters or more, i wonder what kind of impact (if any, but i imagine it has an impact) that has on the parsing time of hashtags.
chriscelaya
2022-01-28
• 7 months ago
I like the way you think 🙃
rileybeans
2022-01-28
• 7 months ago
Looks similar to Tumblr
kitty4D
2022-01-28
• 7 months ago
i never used tumblr when it was popular, though there are plenty of sites that handle tags as a separate field like this for sure. to me, this would be the most basic step in terms of making a more improved tagging system. now, how the tags are used within the site as far as showing trending topics or categorizing posts- that's a node thing, and we don't even have that used anywhere that i know of offhand. i'm only talking about the way tags (not @ tags, # tags) are stored with a post on-chain, not how they are then used.