Post by kitty4d
2022-03-05
• 6 months ago
IMAGE
@DAODAO thx @4down for some of the words like "Immutable Force meets DAO World Order's Hollywood Hard Fork" and "Linked List Ladder Match for the Tokens in the Hard Wallet Smart Contract" and also for this which i guess is also a known phrase: "bah gawd it's gonna be a slobberknocker!" "as gawd is my witness, that DESO is broken in half" _̵̲̮̘̎͑̅̕_split incoming 2̶̖̥͇̠̫̾̓̋̉͌̄͋͐̎̀͆́̃͒̀͜͝2.2.22 was only the beginning___ 03-11-22 INVESTĪ̷̛̈́̓̀̕̕͝GATE 311 _̸̧̨̛̩͚̦̳̱̟̣͙̼͎̖̞̮͖͍̦̗͉̥͙͍̗̲͕̻͈̖͚̠͈͎̲͍̱̪̮͎͉̮̮̼̱̮̜͕͈̻͔͖̝͉̜̻̐̀̒̃̆͗̂͌͆̅̀̽̍̔̅̾̈̀̅͑̄̐̅̂͒̓̀̈́̓͋̍̆͜͜͠͝ͅͅ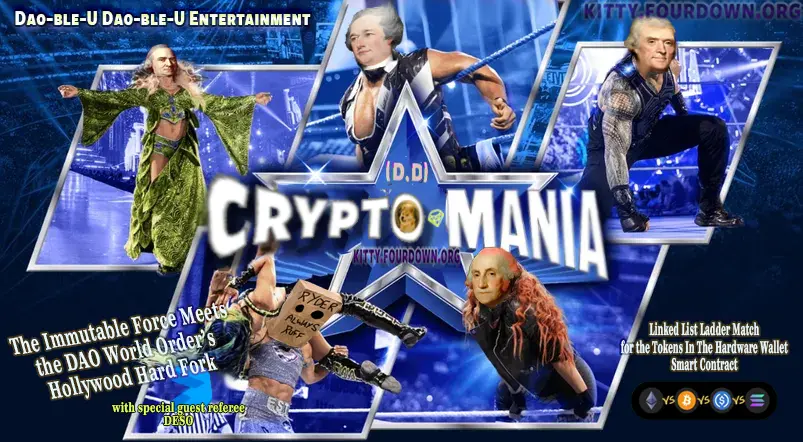 comments
Cato
2022-03-05
• 6 months ago
Do you own a DaoDao NFT, do you think is worth it?
kitty4D
2022-03-05
• 6 months ago
i can't afford one right now, but if i can get enough money while they're still for sale, i will get a bronze one. i am going to try. normally i am not as broke as i have been, but i've put all my time and efforts into everything i've been doing here really. but i do not really think of this as an investment. it maybe has the potential to result in earnings, but i would just like to take part in something here on @deso and the price of a bronze isn't like substantially more than a good night out when i am working a normal job. so it's entertainment.
4down
2022-03-06
• 6 months ago
Oh I didn't even think of this when you asked, but you know, Ladder Match. Nader Match. But, as much as I appreciate the wrestling memes, I don't know that they work out as well as I might lead you to believe they will LOL.