Post by kitty4d
2022-01-29
• 3 months ago
quoted repost
kitty4D
2022-01-29
• 3 months ago
so, there is a terms of service on identity.deso.org - does this mean that TOS applies to any site/app that uses it for logging in users? i notice TOS is NOT shown when you Login with Seed Phrase. and a person can generate their seed phrase anywhere, so what's the TOS covering? considering any seed phrase that works technically already exists. since the TOS can change, also, it doesn't make sense to only be accessible when generating a new seed phrase. but the TOS is on node.deso - what is the "Interface" exactly? (this is a multi-post, click~)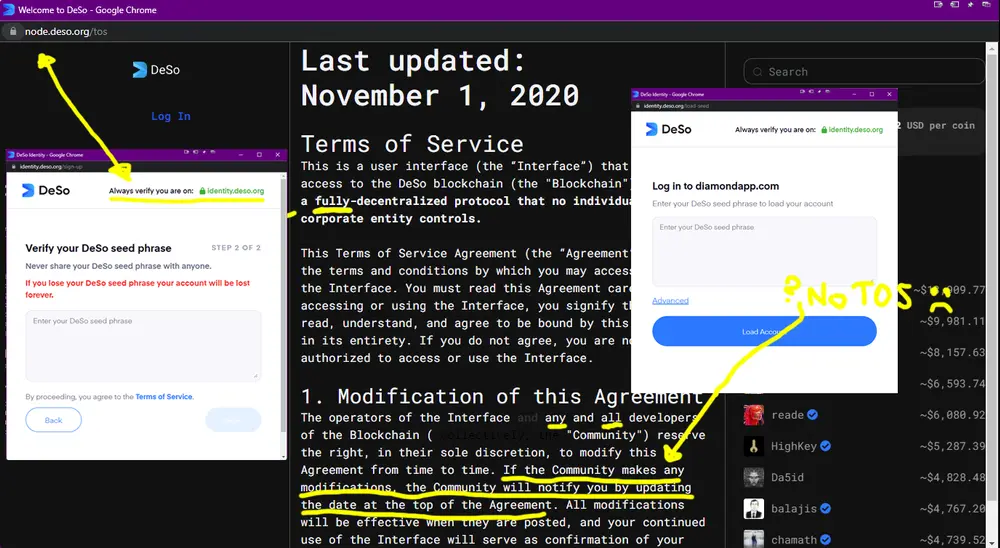 i bring up these questions for the good of everyone, deso foundation, "the community", my coin holders, me. seems there's a kind of head-in-the-sand approach to a lot of stuff, that's the impression that i get anyway, and as a dev, i don't want to be unsure of how things would play out and find out that "i should've known" something. like, if i had the power to get this on the hot feed, for instance, i would want to do it for the benefit of the platform. i don't even care, copy/paste what i wrote. this stuff should be in the docs. ignorance sucks.
comments
hugetiny
2022-01-29
• 3 months ago
Thanks for asking these questions. For all we know these issues could have been raised and addressed at the beginning of the project. It would be good to hear from the core team on this to understand their thinking. Maybe we could have a meeting where we source questions like this from the community (maybe even vote on them) and the core team answers them.
kitty4D
2022-01-29
• 3 months ago
yeah for sure but devs should want to know this stuff so it doesn't matter if it was brought up if nobody wrote it down LOL i mean for sure i want to know that there are no problems. i exaggerate some stuff (but i don't think i go anywhere unimaginable for sure) because it just BLOWS MY MIND that other people don't want to be sure they're not setting themselves up to get bonked by the FTC or whomever like, i mean, Dinesh had the killer app too :D
GlobalClout
2022-01-29
• 3 months ago
Your post is now in BitClout Global Feed! 💎
ECOE
2022-01-30
• 3 months ago
I buried some comments, and a little down-right scary crap, deep in the thread... you'll see them soon enough... then what?
kitty4D
2022-01-30
• 3 months ago
you mean the comment that was a multi-part? yeah i am sure i know what you mean, it's a problem but i'm hoping you don't mean you've seen something criminal going on. i assume you just mean the existence of certain things that should not exist given the TOS. if you mean something worse, i mean, you can message me and tell me.
ECOE
2022-01-30
• 3 months ago
ty 4 the follow back... yeah I feel I need to share it since the core didn't so much as give the time of day and only 1 "send it here" response has had me left with they just don't give a rats ass and think CODE is all that matters... I mean damnit... They boast it's up to us to come up with the expansion with a killer app but won't even listen to the ideas that they are supposedly asking to hear... but I've been reluctant to share what I found since in the wrong hands could be weaponized... So a catch 22 here... but I have to lean in the direction of protection for all us rather than some core team whos' attitude displays as their crap don't stink... 3:10 am in Texas again.... Gona get some sleep& will pick it all up again in a clulle hours - Watch for DM... need to take this more private. gn