Post by kitty4d
2022-05-25
• 3 months ago
IMAGE
so, i have no idea what any of this might mean, i'm just presenting this stuff that looks a little awkward. really, i was just super busy when this happened -
https://diamondapp.com/nft/3458f9ff03f513103d64f9305de0862fa22578b75e5d97e4f231401440ac6fda
or i would have brought it up to someone because .. are you kidding lol. anyway i just saw the ask for money yesterday and was reminded of this stuff and figured people might be interested and to come to their own conclusions. it's a multipost.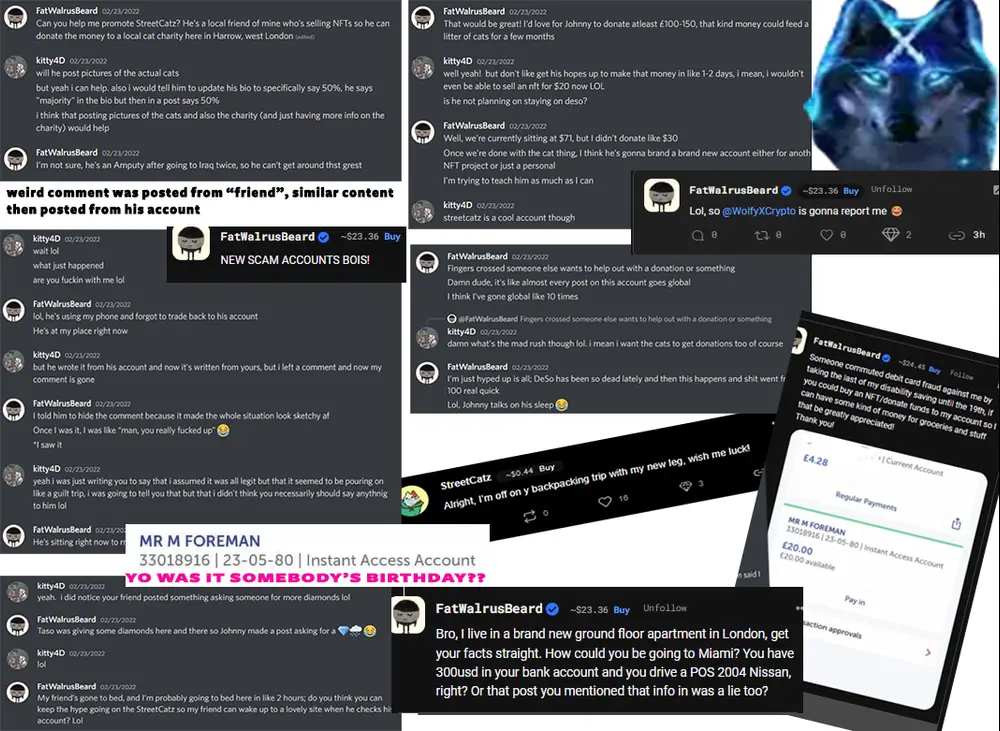 comments
kitty4D
2022-05-25
• 3 months ago
like, i don't even know what the "bank statement" (?) showing a birthday 2 days ago actually shows? i always had a bad feeling about the cat charity @StreetCatz and i see that he provided an easy exit to the "character"? anyway the reaction to my very normal reaction to his leaked photo NFT was messed up, the story ridiculous, that's this next one. whatever it is, it's certainly bad decisions. sounds delusional if it's being told with total honesty. who ARE the scammers? what if a hero creates villains to take down himself. unrelated thought.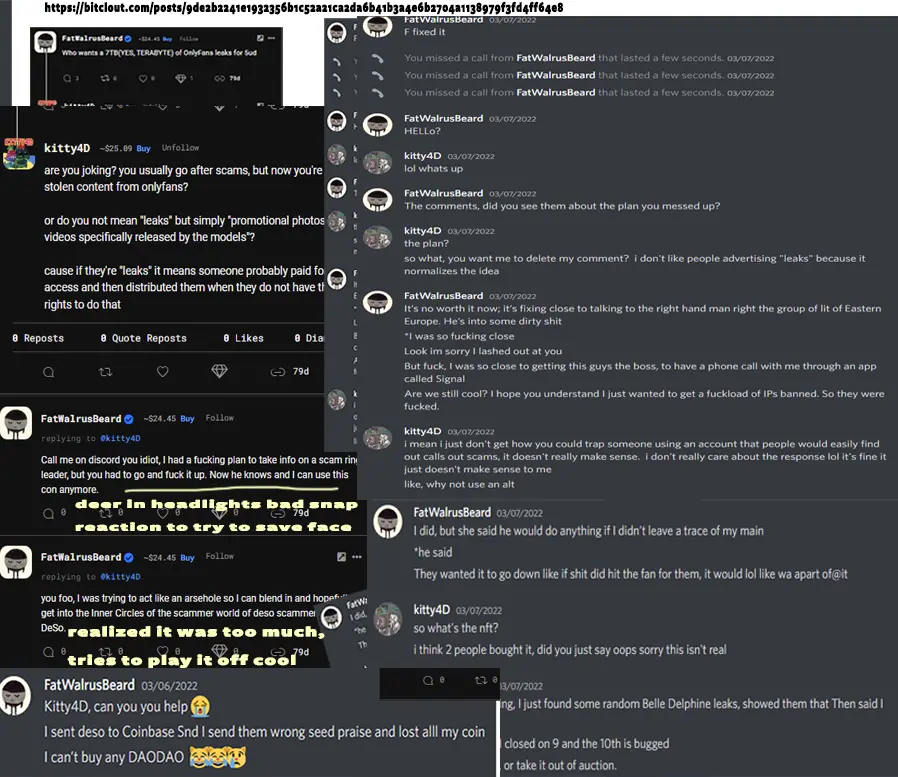 kitty4D
2022-05-25
• 3 months ago
and yes that one image says: "Kitty4D, can you you help 😭 I sent deso to Coinbase Snd I send them wrong seed praise and lost alll my coin I can't buy any DAODAO 😹😹😿" yeah. anyway, no judgments, i dunno what the deal is, but some very strange stuff that a scam hunter himself would surely deem worthy of investigation.
znmead
2022-05-25
• 3 months ago
So confused.
JDArmstrong
2022-05-26
• 3 months ago
This all looks dodgy AF. @Randhir things like this, is what SHU (Scam Hunters United) was going to help prevent. With codes of conduct, scam hunters verification and registration. Independent investigations of complaints against scam hunters. There's to much opportunity for people to say they're scam hunters, when they could be the scammers. Had to sort that out before. And scam hunters jumping the gun with no evidence, ruining someone's project/account. And scam hunters acting inappropriately.
Randhir
2022-05-26
• 3 months ago
Agree. It is difficult and that's partially why I shut down @desoscams because I realized that this manual scamhunting is very risk-prone and also more importantly not sustainable. Hopefully some @Verifier features I have in mind can help. Let's chat soon.
JDArmstrong
2022-05-26
• 3 months ago
Exactly part of the reason I stopped. Lol. The other part was the resistance from those who shan't be named 😉
kitty4D
2022-05-26
• 3 months ago
i don't think anyone should be calling themselves scam hunters. 1) you're going to hit a lot of false positives, cause you're just constantly looking for suspicious stuff, and in crypto, that's almost everything yet not everything is a scam hitting false positives will make the wrongly accused think you're a scammer 2) why the need to appear some hero, is it to hide something? people will wonder. maybe you're creating the villains. etc. we should simply follow the standard "if you see something, say something" we don't need superheroes or vigilantes
JDArmstrong
2022-05-26
• 3 months ago
The way I was setting up SHU, was basically a DAO before I actually knew what a DAO was. Board members who were voted on by the community. Board members would handle the direction that SHU would operate. They didn't do any scam hunting. There'd be code of conduct, registers, education. Pooling of information, getting scam hunters and the community working together. There was a 5, 6 phase plan of implementation. The idea, to protect and educate the community and to phase out the cowboys who do falsely accuse, act inappropriately. Also registered scam hunters would be known to SHU, for verification, so while many would operate anonymously under a name like ScamSeeker, if any continually did false accusations, or whatever, they wouldn't be a registered scam hunter. The problem with "see something, say something" it still has those same issues. False accusations, bullying, acting inappropriately. There was a few of us who were doing the "see something, say something" most people wouldn't see our warnings, the info was scattered, and it was (and will again) get worse . The bit you say, about wanting to be a hero or something, tells me you haven't really seem what tends to happen. Lol. Its a relatively thankless job, you tend to get abuse and threats from scammers. Being called a liar or that we are wrong. I always presented irrefutable evidence before posting. Scammers were an issue that needed dealing with, and scam hunters needed to unite, pool information and gain community respect and trust. I actually uncovered a couple of large scamming rings, heaps of accounts would be set up from a lead account, performed their scam and I was tracing that money. I reported it, was told nothing they could do. Which is bullshit IMO. All that is what gave me the idea to start SHU. They are way more organised, so to protect the community, stop the DAU dropping, I figured we needed to be. Negative experiences such as being scammed, will have people leaving, as i warned way back then, especially if nothing is getting done about them from the core team. I'm no hero, or wannabe big man of deso, I'm a writer and an artist. My friends are also writers and artists. I hate scammers and art thieves. There's a lot more to SHU than what I've said here. And a lot more to the story. Like reasons why I stopped trying to build SHU (which my plan was, once it was running how I'd planned. I would walk away, it would then belong to the community) but still call out a thief/scammer of I see one. Anyway... that's just my opinion. It's irrelevant now. Lol.
kitty4D
2022-05-27
• 3 months ago
ok quote repost done, but i wanted to comment back. i don't know what SHU is or was- who was voting on its members? what people need education about is with things like seed phrases, phishing sites, and red flags. it's hard to educate anyone on how to identify a liar. if it were easy, politics would be far different. all you can do is provide a toolset, then it's up to each person to use those tools. i try to help by speaking about what i see. but, i have little sympathy for people who get fooled in a way that did not involve a hack.
JDArmstrong
2022-05-27
• 3 months ago
Lol. SHU (Scam Hunters United) was a project I was working on. It never launched, but I still think the idea has merit. I was with you right up to the point you said you have "little sympathy for." On a platform that was attracting many crypto newbs, wants to go mainstream, has little on educating new users on everything crypto, has a TOS that even Nader posts on conflict with... I just think that, is a little harsh. Just a smidge. Part of my plans with SHU was education. When I would share a profiles that had stolen art. I always told people, before buying an NFT, at least use reverse image search. And other simple things to look for that are glaring red flags. But, when I even miss posts of people I'm following (and I mean a lot, not just because of time differences or whatever. I've tested it out.) Then not even all my followers will see mine. By the way, please don't think I'm having a go at you, or this is an argument (just in case you're taking what I'm saying the wrong way) I was just having a chat, expressing my point of view and taking on what you were saying. 😊
JDArmstrong
2022-05-30
• 3 months ago
@SupremeP and @Randhir