Post by kitty4d
2022-07-24
• 2 months ago
IMAGE
i'm getting annoyed, if you require more proof that this person is not what he claims, he is 100% evading taking any responsibility. i believe that he calls these scammers "scum of the earth", so i am sorry if after being attacked when i also had been sympathetic towards him, that the well has run dry. anyone who knows him, maybe reach out, because it seems that he is now either really potentially hurting himself or pretending to? i don't know how else to read these messages along with his reposts of mine. he is caught, it is not the end of the world.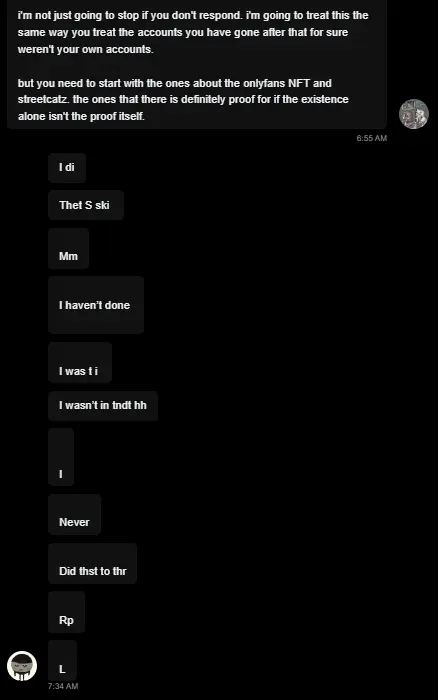 comments
JDArmstrong
2022-07-24
• 2 months ago
I mean... what?? The only but I could possibly make out was "it wasn't intended" maybe...
kitty4D
2022-07-24
• 2 months ago
who knows, but he certainly isn't acting like an innocent person at all. he's reposted one of my posts and quote reposted the other with weird text.
JDArmstrong
2022-07-24
• 2 months ago
Exactly... and bizarre. 🤷‍♂️