Post by kitty4d
2022-06-19
• 3 months ago
IMAGE
VIDEO
whoa, so almost 1 year ago, presumably with fewer empoyees, @deso was able to do something like this?
https://docs.bitclout.com/faq/bitclout-faq#5.-community-questions
like, wow, okay, somehow this stuff was possible at one point. maybe the problem is that the questions are still the same? let's see. 1. Can we have more visibility of the product roadmap? This will help the dev community to build appropriately. Would you consider making the roadmap public? (@GeneGMB @Davidsun @usmansheikh @CloutCurator) - "below are some priorities for the next month or two as of July 2021 (which is a long time for BitClout!)" NFTs Improve onboarding Notifications, mentioning specifically email and phone notifications Derived keys Referrals Scaling Listings on more exchanges 2. When will decisions & timescales for move to Proof of Stake be open for review? (@Davidsun @tijn) - no specified time, but "hoping within 3 months of July 2021" 3. When will verification and profile blocks move on chain and how will this work? (@ItsAditya @Tijn) - whatever it all says here, follow that link and read if you want, but the best part is it closes with "But we need to write it up and run it by the community first :)" 4. Was Bitclout originally intended to focus on coin price, gains, trading ? And what consideration was given to this maybe encouraging bad behavior and bad actors by design? (@GeneGMB) - "intended to promote positivity and unity over division and toxicity, while also allowing creators to earn more per follower than on any other platform" (clearly other platforms are more profitable for creators, this is known by now for sure) 5. Will there be a function to lock-up an X part of your coin for an X part of time in our profile? (@Nigels) - "There is a tremendously long doc that walks through many proposals and explains why we haven't publicly proposed something here yet, but it's not properly anonymized. I will share it soon..." 6. How about giving creators the optionality to reject investors? - "we look forward to iterating on proposals with the community once we get through a couple major releases like the NFTs launch" 8. Can we have a regular community engagement event, like Clubhouse has their weekly Townhalls (@Davidsun @GeneGMB @CloutCurator) - "Once we hit the 'gas on the fire' point above, however, I think doing more community stuff will make more sense" (goal posts continue to move) 10. Will there be hackathons, covering product, user experience, and dev? (@Davidsun @GeneGMB) - "We need the community to do this right now. Again, there are some very high-value things the core dev team wants to focus on, and so we need to put all of our energy on those, and only do very scalable things like this AMA." 11. Will there be a fund to support the developer eco-system (@Davidsun) - "In the short-term, everyone who we've spoken to about funding has been able to raise tons of money from venture capitalists and hasn't needed any help, which is a very good sign that the organic incentives to decentralize are working as planned." 12. Is work underway to implement a badges / profile system on Bitclout? Eg designate profiles ad user, trader, creator, developer, project? (@brootle @GeneGMB) - "Good idea! We haven't thought about this, but it could be interesting. I would put it as a lower priority than the things mentioned in the roadmap, though, and it does seem to require quite a bit of manual labor to curate." (manual labor, yuck!) 13. What criteria are or will be used for user verification as it seems inconsistent at times ? And will there be away to get verified without social profiles (@ItsAditya @lukasjakson) - "Today, bitclout.com verifies users if they have a verified checkmark on Twitter, with very rare exceptions in cases where it looks like a user will add a lot of value to the community." (very rare exceptions, i guess that changed?) 25. What criteria do you (@diamondhands) use when you invest in a coin (@PAZAN) - "When someone creates a lot of value for BitClout or when they're doing something that speaks to me, I invest." (anyone got anymore of those celeb coins?) 31. What is the long term plan for the SWAP_IDENTITY god power transaction ? It would allow core team to take over any account. While its in place, what protocols are in place to secure & limit abuse of this transaction? Related, An open SWAP transaction signed by two parties would be very useful (@CloutAngel) *cough* @PokeDAO @pokedao__ 35. Who is the funniest and who is the most sarcastic in the core dev group? (@cloutviz) - "Ha. Good question. @maebeam is the most playful for sure. Beyond that, everyone has a pretty good sense of humor. @diamondhands has a very witty, deep cut style of humor if you can imagine it." bahahahahahahahahhahah trying to imagine it what i would have wanted to ask, is "who came up with the stupid name bitclout" but i feel like the answer is already out there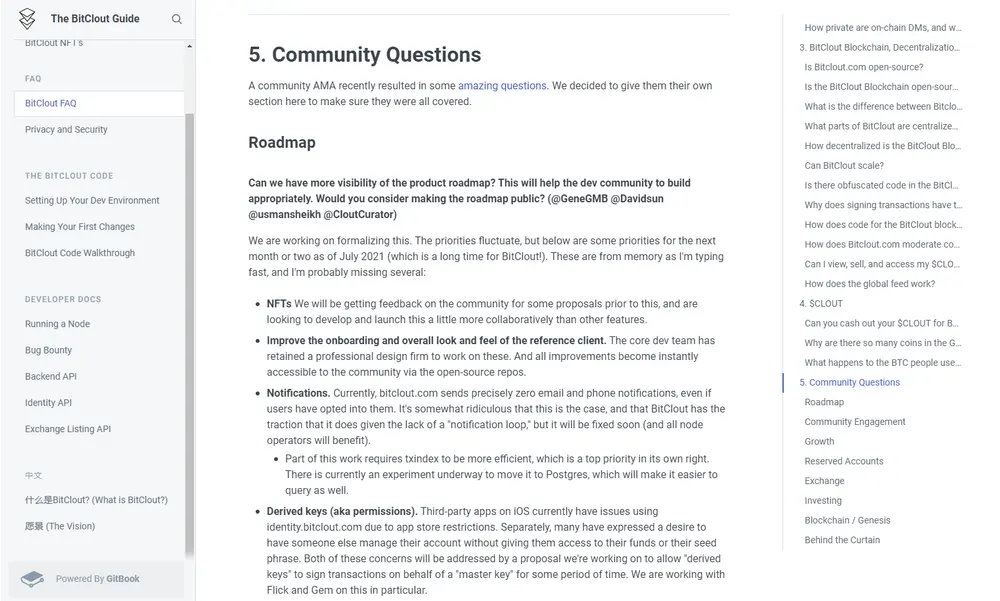 comments
StarGeezer
2022-06-19
• 3 months ago
⬆️ Absolutely brilliant post 🔥🔥🔥 This really puts the spotlight on why frustrations run so high @nader The update was full of positivity the other day - and lots to be excited about, but so many big issues continue to remain unaddressed. Any thoughts @Sandirose @vampirecampfire @Goldberry @NowAndThen @mcmarsh
kitty4D
2022-06-20
• 3 months ago
i gave @nader a hard time with this post, since he presumably is the person who wrote those answers. i dunno whose responsibility it should be to do things like this now. i don't think it's nader, though i guess the buck stops with him. i don't even know what update you're talking about from the other day! clearly, i still use deso and prefer deso to other options. i spend days making videos about deso people. their work is hard, but i wish they'd not ignore the things that should be very easy because they are so focused on being "state of the art"
StarGeezer
2022-06-20
• 3 months ago
The need the right people (and someone in operations to say "no"/"stop"). They're clearly a hard-working, intelligent and passionate team, but need support - especially with the community, marketing and communications.
kitty4D
2022-06-21
• 3 months ago
it's baffling, though. cuz we know for a fact they're aware of the way people feel on-chain - since they had specific direction to avoid posting on diamond/deso pre-daodao launch. i've told them 10+ times very simple things someone on their end could have done at various times that would have earned them brownie points with the community. and my advice has been totally free. (not my preference, i think my advice is valuable, but i stand to gain if they make improvements i suppose) it wouldn't take much, and surely it'd make things easier for them!
Sandirose
2022-06-19
• 3 months ago
I still haven't taken the time to go through any of it so I've not yet formulated thoughts…which might be deliberate 🤷🏻‍♀️
kitty4D
2022-06-20
• 3 months ago
i didn't even know you had commented in here! i hadn't had time to actually respond and like/diamond stuff from my notifications over the weekend, though i had looked through my notifications. weird that it doesn't let me know about this kind of comment still. at the least, it could just decide if a nested comment directed to another person within my post is worthy of notification by looking to see if i follow you PRODUCT, INNOVATION
Sandirose
2022-06-20
• 3 months ago
I was responding to StarGeezer's tag/comment so I don't think it would show up as a response to you that would notify you. I also didn't say anything of value 😂 I haven't chatted with you in a while so I hope you've been well 😊
kitty4D
2022-06-21
• 3 months ago
i know why i didn't get notified but it's a little silly considering presumably anyone commenting within the overall thread would be touching on things relevant to what i'd posted! you didn't say anything of value this time, but i'd like to make that judgment call. ;) been super busy with work but i put out some pretty dope videos on @Kitty4DAO - the new one, i think you'll enjoy. give it a shot, it's crazy but i think there's one aspect you might enjoy. :) and thanks, hope you've been well too :D @StarGeezer reposts bring people back together!
Sandirose
2022-06-21
• 3 months ago
I will definitely need to check out the videos. I haven't been online as much recently. I've been doing a lot of real life things :)
kitty4D
2022-06-21
• 3 months ago
usually my videos are very silly and just wacky. the newest one has those elements, but if you actually watch, there are some real messages in here. oh, you know, i can just include the youtube link here for you ahahaah this might be the last deso-specific video like this i make. i feel like this was where it had all been heading
vampirecampfire
2022-06-19
• 3 months ago
Surprised but also not super surprised that almost an entire year later there's still the exact same questions that have yet to be addressed. It is beyond me why/how basic communication remains such a challenge.
NoMansThots
2022-06-19
• 3 months ago
I've already given up. As soon as 50-100 people move to membercoin on @membercash I'm never coming back here. 😅 Also you can mine it and it's a different blockchain. Mined 40-50 membercoin already on my laptop.
mcmarsh
2022-06-19
• 3 months ago
no core care about core deso at the moment 🤷‍♂️ still here, still watching / waiting New ™ "In the next couple of years*" *unless a new shiny thing comes along
kitty4D
2022-06-20
• 3 months ago
well, i mean, daodao needs core deso. but the one thing that still kinda shocks me with @daodao is how not social it has seemed. dao feeds started off fairly hard to get to, and not operating properly, yet the social aspect was pushed very hard. hopefully they find a good solution soon! it would presumably help all of deso after all.
mcmarsh
2022-06-20
• 3 months ago
Yes, of course Just being dramatic 👍 I've stepped back a lot from keeping up with things anyway Had hoped they'd come back to make/Collab on a fully viable feature rich social media demo product some time soon 🤞
NoMansThots
2022-06-19
• 3 months ago
Well they had just received 5000 BTC (200 million) and were yet to be listed on exchanges so had to put in work. Now that they've got enough money to just chill & put in least amount of work. 🤣
AlexRokin
2022-06-25
• 2 months ago
What do you mean? VCs invested another 5k BTC into DeSo? In addition to the last year 5k BTC?! WTF?!
NoMansThots
2022-06-25
• 2 months ago
Not additional. The last year 5K BTC was from VCs and retail both. Retail just bought at the very top.
AlexRokin
2022-06-25
• 2 months ago
Ahh! I get your point now 👍 Misunderstood it for the first time.
NowAndThen
2022-06-19
• 3 months ago
"community" <----