IMAGE
guess i'm officially on twitter now. i joined #stonedapeclub on #solana by getting their #nft last night. my tweet has 9 comments, 7 retweets, and 36 likes in fewer than 7 hours, which is probably better engagement than i ever got on deso even when things were a bit more pumpin'. but, still, a reminder that @FatWalrusBeard is a scammer yet has official @deso verification. check my post history to find my proof that he never provided an ounce of defense for~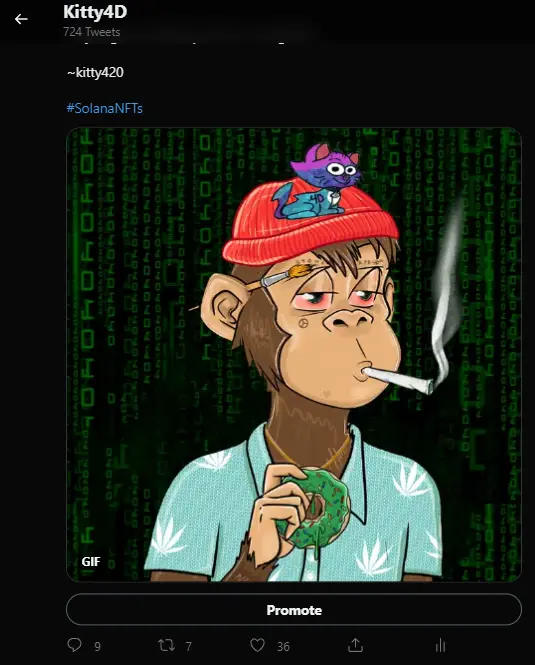 comments
#kitty4d i should start putting this in all my posts. just to see how many it takes to get listed, i'm gonna add it as a comment to my posts now.
how many diamond monies did you get on twitter? 😋
i'm making a lot more on #solana if that's what you mean. i've also put a lot more IN to solana. which, i'm sure, is how there's a higher chance of making more money there. i never put money into deso.

what do I do to start making those sweet solana monies too?
also when i say on-deso commenting. i mean. we could fork deso and have a totally blank slate and use that. that's the way to go. don't pump any scammer bags here, do it fresh. no usernames already taken, no garbage data to bog things thing.
*bog things down lol things thing
let me test how solana api works, DM your sol public key, I will use it for testing of pulling out data from sol blockchain and will send you link to see how it looks when it's ready
how do you want to do it? trading nfts, trading tokens, memberships in daos, making nfts, developing on solana? you could easily do something that could make plenty of money there i bet. if you integrated solana wallet into gemstori and created a gallery of a person's solana nfts with on-deso commenting available to have comments per nft... there are so many possibilities. if you really wanna do something like that let me know, i'll help~ i mean you could probably get a ton of funding right now with just some slight UI tweaks to show "what's possible"
integrating solana wallet and listing NFTs belonging to wallet address sounds like interesting idea, and I haven't integrated @deso wallet yet, so that would be funny if I had solana wallet 1st and I bet many peoples here would be in rage 😂