Post by kitty4d
2022-01-19
• 8 months ago
IMAGE
hive update; with 30 followers, with no money put in, my wallet is worth ~$81. i also have all of these side-chain smart-contract tokens too, and the amounts that i have staked improves my ability to earn going forward. ie, my ~nsfw~ posts you see in the list don't have high Hive rewards (3.73, 2.09, in the image attached), but i receive these other tokens for those posts (PORN, SEX, etc.) posts don't pay out until 7 days, so the post yesterday still has ~6 days to continue earning for me, but right now i look to earn approx $20 off of it. 99 upvotes, 26 comments (though that includes comments from me also). so my wallet will be over $100 at that point, though half of what i earn i will be staking which will then improve my ability to earn more going forward. regardless, it's a lot of upvotes (which are like variable-value diamonds, some users' upvotes are worth more than others, ie, one of my upvotes on the new post was worth $25; the amounts are split between me and the communities i post them in that's why i only end up receiving about half- this is probably not totally correct but close enough) and an awful lot of comments- for only having 30 followers. i believe they also have what is essentially like a creator coin, where you can delegate some of your Hive Power to other users (which allows you to make posts, etc., there's a limit on # of actions you can perform per day based on how much of the Hive crypto you have staked), and then based on how well their posts do, i believe you end up earning out of that also. which- feels MORE like a creator coin than what we have here to be honest. but it's a different vibe, these are more long form blog posts, i think it's just another tool for creators to have in their toolbelt. i'm all about supporting any blockchain social media, hopefully they all survive, but at least one of them surviving is what we all should want- when we're just creators and not major investors or part of any company backing them. (so anyone speaking like it's a problem probably has some vested interest in one of the blockchains surviving over another) i'm all for helping other creators, so maybe adding this other blockchain into your repertoire could be useful. you can see i've only posted there 5 times in the last 11 days, so most of my activity is here on DeSo, yet i've earned close to the same amount there that i have on DeSo since I've joined hive if not more, with like 1/4th or less the amount of followers. they also have a lot of really nice users who look for new users and help onboard them. it's got a high learning curve, i would say harder than DeSo, but there's no company backing the blockchain- it's a community-made fork after all. i've posted some tips that i felt i have learned so far on how to try to have a somewhat successful start there, but you can ask me in DM or here in a comment and i can try to help. i don't see it as a DeSo-competitor, i see it as a content-creator-complement
https://peakd.com/register?ref=kitty4d
(might say they're out of spots)
https://ecency.com/signup?referral=kitty4d
(might need to turn VPN off to sign up with them, just for the sign-up process)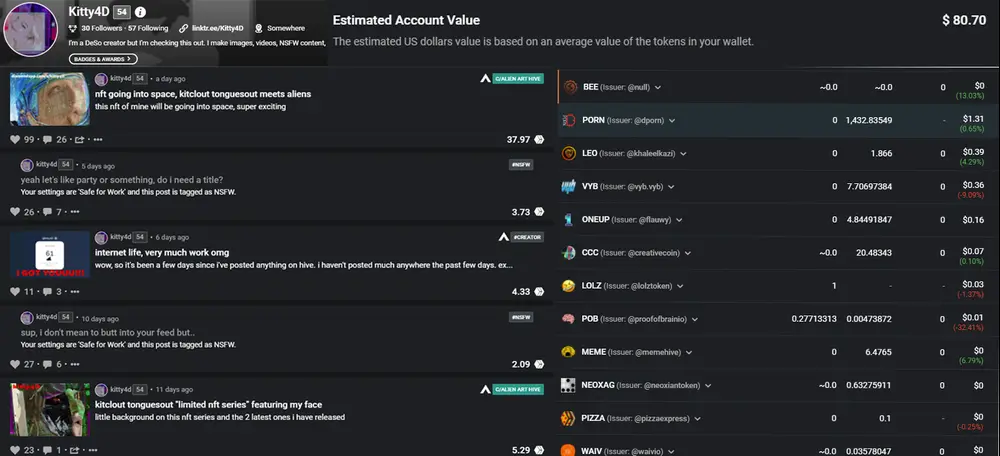 comments
aaronsuncamacho
2022-01-20
• 8 months ago
Also, did you notice how easy it is to "mint" a community on there?! That should be a feature here! That chain struggled with user retention until Communities launched. Early adopters post too much about Blockchain and about the platform itself for it to be engaging for the average social media user. If they can join a community, that changes. Imagine if Reddit was only one feed!
aaronsuncamacho
2022-01-20
• 8 months ago
Glad to see you learning your way so quickly, and I'm not surprised! I am with you, I want any Blockchain system to topple the parasitic mainstream apps. My issue here is "why didn't DeSo study and learn from HIVE?" (if they did, why don't they mention it and tell us what they learned, why they did it differently, why their way is better to them)... My other issue is "why aren't they working TOGETHER?" (hire each other's devs, partner, merge, something)... The only edge I see on DeSo is that they are trying to include everything on-chain, on layer 1, and they have both big-time VCs and big-time connections (got on Coinbase quick)... Unfortunately it isn't always the best tech that wins, it's the best connections, the most money to spend, etc... Onward and Upward! 🕉️☀️💜🙏
kitty4D
2022-01-20
• 8 months ago
yeah, i have seen the comparisons between @deso and the more mainstream blockchains, i'd love to see an official comparison to hive. and i don't think there's a benefit to everything being on-chain myself. i'm certainly not interested in putting photos or videos of myself (sfw or nsfw, doesn't really matter!) on any blockchain. i also think it's silly to think there's any good reason to have chats or dms on-chain. there's use cases both ways. and getting listed on coinbase certainly hasn't been any kind of boon thus far for deso.. it's helped people get money out of the system, though, for sure, which maybe is a boon? i'm kinda joking there, i mean, it surely must legitimize it somewhat. i mean, shiba inu is on coinbase after all, that's where the big dogs play! i mean it's just looking more and more like we're all part of a little scheme, they don't really care about us, and they think once something killer is created we're too small to have anything to say about it anymore. but that'll pretty much make them as bad as twitter in my eyes if that's what's really going on.