Post by kitty4d
2022-03-21
• 6 months ago
IMAGE
VIDEO
ty @ChaseSteely @RudyKarsan @Krassenstein @MichelleNFTs2Space @JoinForces @ArtemisMusicEnt @Krassenstein - if you're wondering why i am thanking you, it's because it was december 15th when i first saw your show with @ChaseSteely and @RudyKarsan and that's the reason i ended up taking part in this mission! i still remember it pretty vividly. i love astronomy, i thought it sounded really cool. but i had only been on DESO for a month - could i possibly be accepted to take part in this? i saw the previous NFTs that Chase and Rudy had sent up- they looked like they were from big-time NFT projects. so being new to DESO, new to NFTs in general, new to making any kind of digital art, and feeling a little out of my element.. i decided to work up the nerve to see if i could take part. i think the video interview mentioned contacting the project using the twitter. but i went there, and there was no option for sending a direct message. oh um damn, well, is it acceptable for me to send Chase a DM on DESO? i didn't know. i didn't really know who he was, but everyone was kind of a big shot in my eyes at the time. and i figured he was kind of a big deal. so should i really try messaging him directly? so then i had to build up the nerve to do that. but i needed a solid pitch for myself to be included. (i thought this was going to be a very exclusive thing at the time, there weren't many details out and i think a lot of the details got ironed out along the way - which was awesome to get to take part in) what kind of NFT could i make? i thought about my favorite things with space, and almost immediately Carl Sagan came to my mind. many of his quotes at first. i thought i could use a quote as an inspiration for something. but then i feel like a had a little flash of brilliance, because i remembered reading all about the things we sent to space on each new mission - things that Sagan played a large role in. i knew "plaques", i knew "golden records", and i did a search and found what i was looking for. i've written about this before so i won't get into all the details again. anyway, i had my pitch. i wrote him, i totally nerded out, i said i wanted to make sure that Carl Sagan was represented in some way, and i also thought that something akin to the plaques made so much sense, this being a new type of space mission. i even worked out all these details, like- maybe there are aliens who communicate only via blockchain technology, and so this mission would be the first time those aliens could intercept a message they could interpret. i'm positive my first messages to Chase were 5+ paragraphs. i was excited and i was trying to make the case that i deserved a spot even if i wasn't a famous NFT creator. i believe i might have been the first person who applied who got in, that might not be true- but i am pretty sure i minted the first NFT for the mission (hence the #1 edition of the patch here, and i also know the order of the NFTs since i made that crazy epic video going through all of them, and i just remember first posting it into the telegram group too). i wish i could have done more once things got underway, but i feel like i did have a hand in introducing a lot of people to the project. back before i made my NFT, i was looking for partners to do the NFT with because i didn't think i had it in me to come up with something and execute it on my own. some of those people who turned me down ended up joining the project 2 months later. (you know who you are LOL) and i had a wonderful time creating the additional NFTs with @Matreshka and bridging the gap between Cold War foes - unfortunately current events make this feel a bit troublesome to talk about now, but i believe that when the current evil has been vanquished, again we will find a way to come together and hopefully this time it will be with more than just the space program. and with the evil gone, combined we will help Ukraine be greater than ever, and we will maintain a friendship instead of remaining suspicious. it feels like a far off fantasy right now, but then, so did humans landing on the moon. that we made it to space, with the technology at the time, is proof that so much more can be done than has been done. space fills me with that hope. but- let's say things continue to be bad, space also fills me with the hope that i can escape this planet one day and get away from all the crazy people. space is the gift that keeps on giving. until it doesn't, and the universe disintegrates via heat death. or perhaps everything just sucks into a big crunch. or, if the dark energy gives the universe just horrendous gas, the big rip shall be the end. such wonder.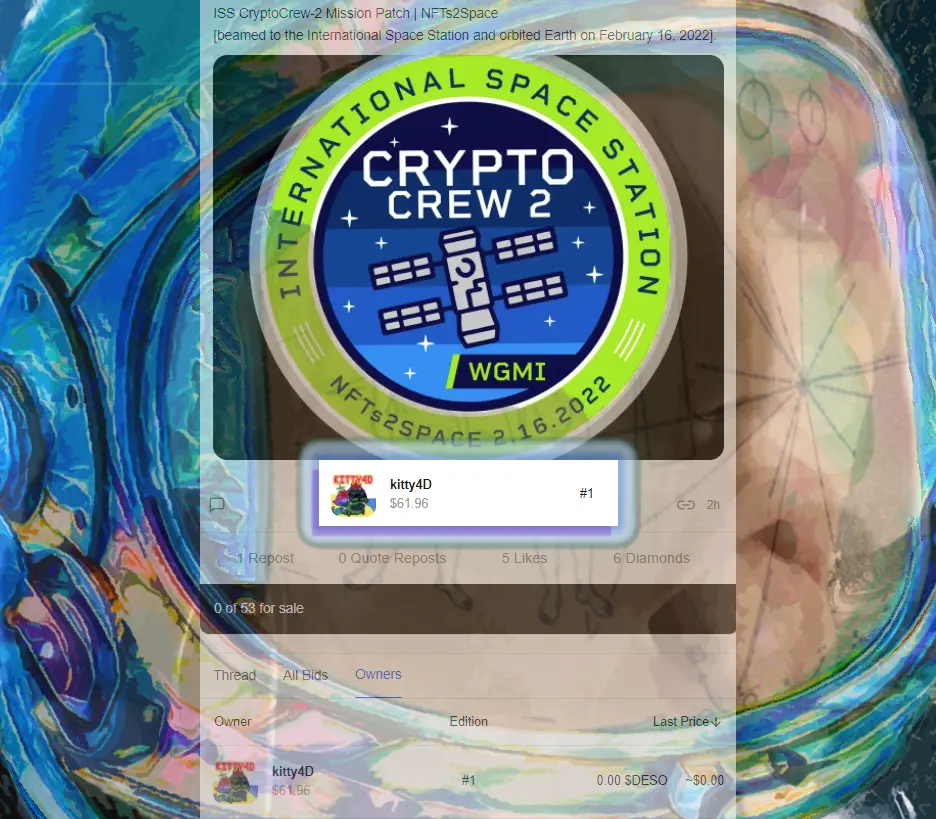 comments
Matreshka
2022-03-21
• 6 months ago
Thank you for sharing and I am so happy you got the nerve to do Chase and to be the first one to get in on Crypto Crew 2, and you are absolutely right, you were the first one 🥳 I also hope that current situation will change soon. But it also gives me hope seeing Russian cosmonauts wearing yellow as they docked ISS yesterday, have you seen it? Even the space is talking.
JDArmstrong
2022-03-21
• 6 months ago
Lol. And here's me DMing DiamondHands on my second day on Bitclout .. 🤣
GlobalClout
2022-03-21
• 6 months ago
Your post is now in BitClout Global Feed! 💎
MichelleNFTs2Space
2022-03-21
• 6 months ago
Love this post @kitty4D! Thank you for participating in CC2 and yes, you were the first one who submitted the WL entry! It pays to be courageous and just GO FOR IT! WAGMI!!!