Post by kitty4d
2022-01-22
• 8 months ago
IMAGE
@DeSo, what can i do for you now? just ask me, i'll try. i've tried lots of things already. i'm happy to keep trying. despite the fact that i post things that are critical, i'm here. i wouldn't bother writing anything critical if i planned to leave. @nader @meghanvita @AlexValaitis @Krassenstein @dharmesh @HighKey i've written tons of my ideas, i've tried some of them. maybe y'all have ideas, i have taken some from some of you before ofc but i'm new here and have probably missed plenty. i don't care about the $DeSo price, i mean- i do, more for everyone else's sake, but of course also i fear that the lower it goes, the harder it will be to get new people onboard. i just want to help get new people here. there's a reason why i never in my life thought i would create and kind of content, and joining this site in november created this spark in me. i put no money down, but somehow even though i always thought "content creator" was a bit of a joke, something about this place inspired me. and so while i didn't put money down, i created a maddening amount of stuff my first 2 months, i've done what i can trying to promote on other platforms (unfortunately, i didn't have profiles anywhere else until i joined deso because this was never an interest of mine!), so i feel pretty invested myself just because i know how many 24 hour days i put into creating content and having fun engaging with people here. how did i randomly find diamondApp and have this fire lit under me? surely there is something there. did i get inspired by the high tech website? of course not, it's not high tech at all! certainly it was the community, but just as much, the technology. maybe there was a bit of naïveté on my part having high hopes for the creator coin for myself as an individual, but regardless, it got me interested, and i've worked out different ways to add value to my coin, and i've worked out many issues i have with the way it works. (and- that's okay, it's fun to be a part of something that's still early, everything is groundbreaking) i mean- maybe it somehow was just weird dumb luck, that never had i put out any kind of artwork or memes or wrote my thoughts in a public forum before, and somehow DeSo wound up being the strange place i ended up getting inspiration. i think it was more, i think there's something to that, i think it's something that could probably be marketed somehow, i don't think it's a long-term marketing plan but surely by the time i hit my 1 month mark i felt sure there were other people like me who might flourish in a place like this. it's still not too late to try something like that. but regardless, who am i, that's one of my silly thoughts. tell me what else i can try and i will do it~ if my linkedin doesn't show you how strong of a candidate i am for getting things done, well, i guess i overestimated things here.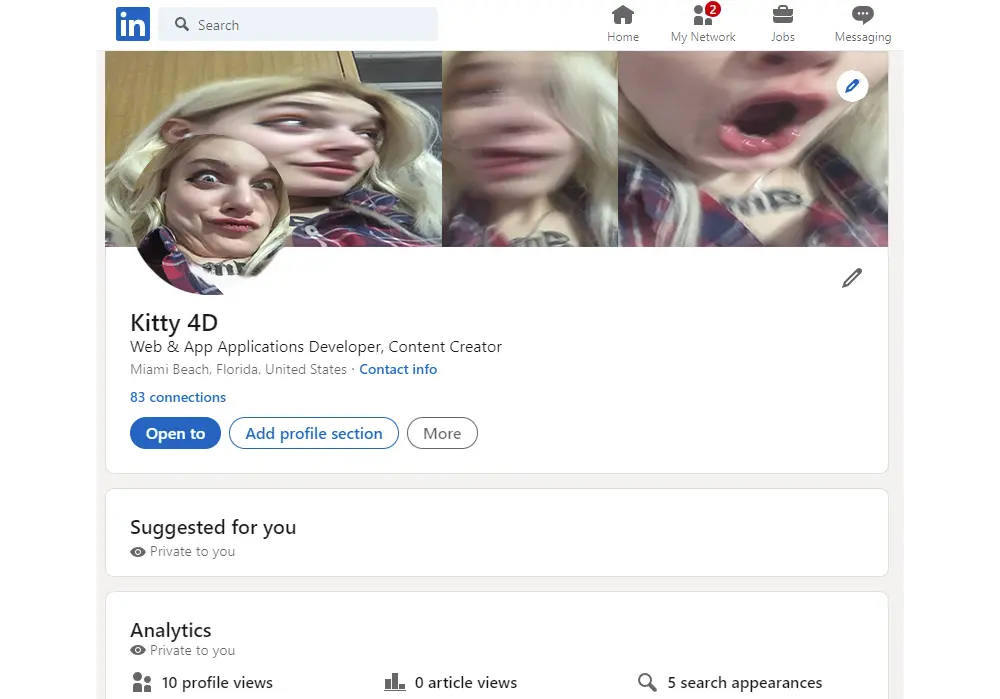 comments
kitty4D
2022-01-22
• 8 months ago
*would create ANY kind of content. blargh. looks like that was the only typo though and i wrote it fast and without reviewing, i can live with that. totally possible i missed a few others though. oh god i hope not.
hugetiny
2022-01-22
• 8 months ago
Damn, I wanted to be the one pointing that out. You did spell nativity wrong.
kitty4D
2022-01-22
• 8 months ago
lol. literally have a search result page still open with the proper spelling for it :D
hugetiny
2022-01-22
• 8 months ago
you went all out with the diacritics and everything
kitty4D
2022-01-22
• 8 months ago
do you think it's some weird fake façade that i put up when i say i love language? do you think my heart is frappé?
hugetiny
2022-01-22
• 8 months ago
touché
kitty4D
2022-01-22
• 8 months ago
@clayoglesby you might have some ideas too, being new here i kept thinking you were just a meme person for the longest time thanks to @brootle so i have to remember to think of your name when it comes to serious stuff too LOL or maybe we're just all in the same boat. i did post a few kinda-ideas over on a comment, if anyone thinks they might be worth something please take them from me they're yours they're ours https://desocialworld.com/posts/6f17924471907a643339396ddbd7c4adc8712b8a4c96defb6916f287b531200f?feedTab=feed.tab.hot
clayoglesby
2022-01-22
• 8 months ago
I'm just the local jester. But if you want to help me make a multi-million dollar NFT marketplace I can get us a $10M+ evaluation in < 6 months.
brootle
2022-01-22
• 8 months ago
wait, are you saying you living in Florida? I am packing my backpack, too much snow and ice here...
kitty4D
2022-01-22
• 8 months ago
i also said that i was ordered to turn over the recordings of the town hall meeting. so yes.
brootle
2022-01-22
• 8 months ago
call me when you move and settle down at some warm place close to the beach... some place where I don't need visa to go to, thanks!
kitty4D
2022-01-22
• 8 months ago
do you want to get a green card?