Post by kitty4d
2022-04-24
• 5 months ago
IMAGE
so, in case the image is hard to read. they (the @deso people in charge) don't seem to care much that i got into their stuff so easily. no one from up top has said a word to me, even though they definitely noticed and have fixed some of the issues. not all. they only seem to have dealt with the things i specifically included in images or mentioned. but that could be that the owner of other docs is a different person, too. who knows. so i mean i just accessed these totally and completely public documents that mention nothing about confidentiality, in fact a few of them were partially shown in a youtube video so i think they were created for public consumption. i dunno? shrug. of course the real problem here is what a person who wanted to do something harmful could have done. i didn't do anything that involved hacking of any sort. this was quite literally child's play. i actually emailed nader almost 2 months ago because i noticed a potential similar vulnerability and i warned him about it. did he get the email? i have no idea. but i did send it. march 8th. i'll post it next. forgetting the fact that it's impossible to understand why they intended these documents to be open to the public and forgetting the actual content of the documents, i don't really know all of the things a person might be able to do to act maliciously having access to shared docs with none of the users knowing someone else has been in them and able to edit them. the phishing links seem obvious. i don't know, but someone wanting to cause problems might know other things. and it could have been used to cause problems for many people. "yo check out all this alpha everyone you WON'T BELIEVE what these people say in some of the docs linked", the bad man writes in his post that includes the links to these docs, after having put malicious links in them. that would not have been very difficult to do. you think i'm some silly girl, whatever, i don't care what you think. this is just the truth. snap out of it and *pay attention to detail* for once. your head is so far up your ass and you think you have it all figured out, but hey- that's just shit in your ears. so yeah, this could have gone very badly for them. but outside of me noticing they have locked down some things, i would have no idea they have any idea about it. they never respond when i point out things that they end up doing, they never respond when i ask questions, they never respond. unless i post a light-hearted pro-deso meme, i guess. i just won't say anything next time. i mean right now i could be making a baller music video, showing all of these public documents, the daodao front-end source code, the front-end ~secret beta site~ - though i'm guessing you took it down because of little ole me (i dunno why, though if you knew you were just going to ignore me, i guess it makes sense) - and going with a "distinct lack of common sense" theme. i'm sure i could find plenty of sound bites to make a killer track that about 200 people might listen to LOL. nah, this one would probably get a lot more views. ....hm. btw your bitclout "growth hack" - it's a big reason why people to this day still don't want to join DESO. super cool hack, bro. you're on top of the world my friend!!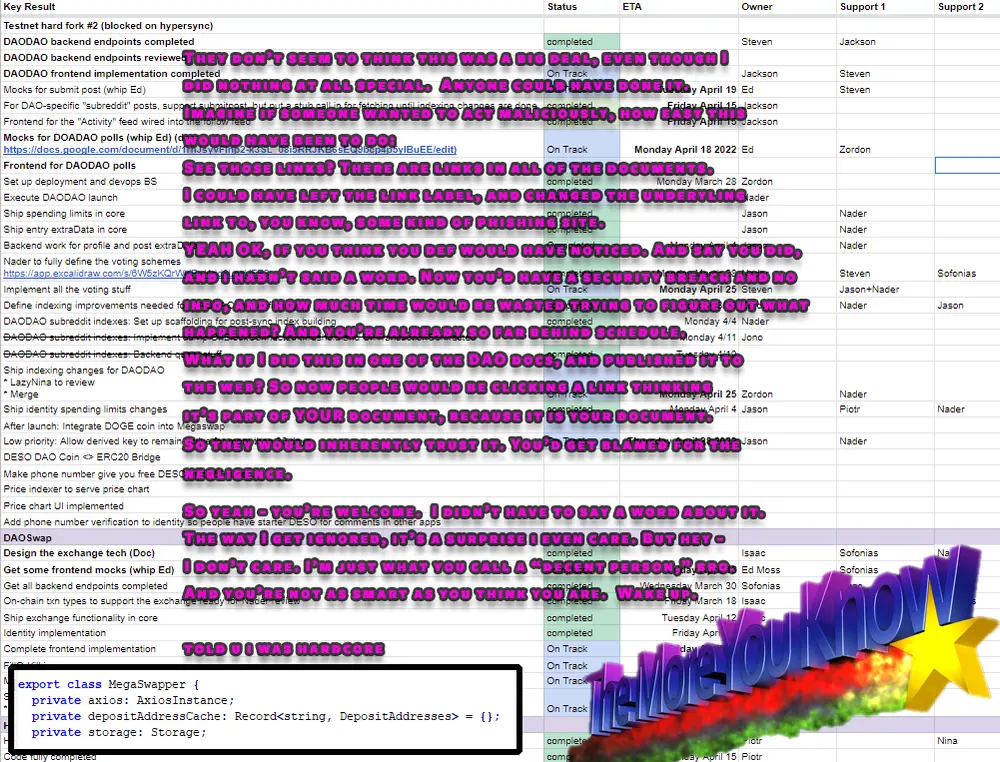 comments
tijn
2022-04-24
• 5 months ago
nice work kitty! not sure why this is being ignored. security for a dao platform should be critical.
kitty4D
2022-04-24
• 5 months ago
it's not that they ignored it, they did lock some of the files. but i said, hey message me if you want to know what i did and what i got etc., because at first i really didn't want to say so much on chain. i tried adding all the deso people as friends on discord so i could try to message them in private, to no avail. but i mean, it's like the <13 kids thing, silence. but this one, people probably will care about more. (which, is sad, or not sad, i don't know lol, i never cared about the kids, just the possibility of devs being hit with large fines)
BRUNKS
2022-04-24
• 5 months ago
thanks for sharing. i dont know what the f is going on around here...
mossified
2022-04-24
• 5 months ago
Haha good sleuthing Kitty! Most of these are just used internally for team planning, prototyping and coordination. We also work with a lot of contractors, so keeping the docs "open" sometimes just makes it easier to share. You're right though, we should secure these tightly a little better. Very embarrassing (for us), but lesson learned! Most of these docs help just sh
mossified
2022-04-24
• 5 months ago
Most of these docs help just *showcase the teams and process and thinking also. And a mix of ideas and goals to hit. We definitely will aim to get better at communicating updates and plans as they become finalized though!
kitty4D
2022-04-24
• 5 months ago
i certainly wasn't trying to embarrass anyone when i first posted about it. but i do consider security to be a big deal, especially in the crypto space, and i am sure you do as well - so not hearing anything after a full day, even though someone locked most of the docs + the figma, made me wonder what was going on and i don't understand why so often it can seem like no one cares about anything we say. i think i've always been pretty reasonable when i point things out, though over time my patience has worn thin and i am less willing to wait to hear anything since i've gotten accustomed to waiting indefinitely. in this instance, like - i get it, yeah it is embarrassing a little, but shit happens and it happens to all of us. it could have had a bad consequence, i think there ARE people who would like to see things go badly, but i don't know that there are people who want that who also have any of the necessary skills to try to make it happen. (i just know there are people who like to run their mouths - but you never know when one of those people might actually learn how to do something). so i just wanted to hear something, just an acknowledgement that it was, say, something kinda set up hastily and shoddily and should have been done better and shouldn't have happened. which i think from what you said, is probably on point - i don't think i'm saying anything out of line and i'm not trying to pile on, either. i don't think that there's anyone who does any kind of dev work that hasn't been there, done that, ran SQL DELETE statements that rely on subqueries, without for sure testing the subquery separately first, directly on a production database because doing every little thing by the book wastes a lot of time. so i don't think the fact that i discovered this sheds some negative light on anything, i try to always provide commentary when i mention things like this so that non-devs don't read it and freak out. though, this post was meant to for sure necessitate a response, so i just let loose. my original one yesterday where i actually tagged y'all was meant to do that also, but i didn't get into any what-ifs because i was trying to be somewhat courteous about it. and i'll just speak freely here, i don't see the need to dance around anything. the only reason i or anyone could have gotten into those docs is because nader leaked them inadvertently (i assume, at least, that it was inadvertent). i wrote some harsh things in my post, mainly because i had watched that video, and read things he had written, and though this perception could be wrong, he comes across like he thinks he can do anything and it's just going to work out no problem. maybe he thinks he has to say things a certain way to instill confidence in investors/etc - that'd be totally understandable. but, this attitude comes across in terms of the legality of things, it comes across when things are posted on chain that elicit negative reactions from people and then there is no follow-up at all, it comes across when there is very little communication and transparency, and it definitely came across in the way DAODAO was originally presented and in many ways still is - and i'll just briefly say i know now for sure that not acknowledging things said on-chain has essentially been by design and i think that backs up the reason for this perception (if it doesn't confirm it altogether). i really don't know why that youtube video got out, if it was done on purpose or if someone leaked it or what, but regardless, the recording has no need to see the address bar, the tabs, and the bookmarks bar. there were other things in that video i would definitely point out as mistakes or certainly "in poor taste", but i don't care about that so much, when it doesn't create a security issue. mistakes happen to everyone, it's not a big deal at all, but it'd sure be nice if he seemed a bit more willing to listen to the community and also be a bit more transparent about things at the same time - i bet this whole thing could have been resolved pretty quickly with some kind of open line of communication. i don't know if the thought was that that video was actually a good thing to put out and was done on purpose, but i certainly would have (privately) mentioned the issues i saw immediately. same way i tried sending that email on march 8th pointing out the exact same thing. anyway, i do want to ask something - i would like to ask it on-chain but would ask it here in the comments (as another courtesy to not particularly draw attention to anything), but maybe you'd prefer that i ask it off-chain first. if so, i did send a friend request on discord yesterday. & i really like the code for the front-end from what i saw. i did try actually using it, things worked smoothly, though i couldn't get past the final step because i think i needed some deso on the testnet account i created. dunno if it was taken down cuz of me, i wouldn't give the URL to anyone and have not done so👍 thx btw~
kitty4D
2022-04-24
• 5 months ago
literally that "~" was the 5000th character so: thanks for responding, i appreciate it~
ch0k1
2022-04-24
• 4 months ago
Nice catch @kitty4D 👍✅
TheParkerazzi
2022-04-26
• 4 months ago
I've tried to point things out my friends saw as vulnerabilities but was ignored as well. "Told ya" isn't a win in this case, if they saw it, other people will eventually.
kitty4D
2022-04-26
• 4 months ago
they "fixed" the issue, this was more akin to a social engineering hack than anything anyway. it just didn't require the actual engineering part, that was done for me. i'm pretty sure the lesson here was learned, though, so i did my job successfully. unpaid job, but that's okay. i have gotten a few bucks in diamonds so not wholly unpaid i suppose lol what vulnerabilities have you found? if you're just telling friends, you're potentially helping bad actors. not to like say you've done anything wrong though, i'm just sayin' :D
TheParkerazzi
2022-04-26
• 4 months ago
I have to go see what I posted in the Discord, and I stated my friends told me. The one I posted about the friend told me isn't that kind of a person. I just passed on the information and kept it moving. I'm not going to convince anyone to take me seriously when im passing along information that's beneficial to them.
kitty4D
2022-04-26
• 4 months ago
you know there's an actual bug bounty program though? i mean, what i found didn't involve any actual bug, but YOU could benefit if you actually find a vulnerability. (and i do kinda think what i found could count as a bug @nader @mossified *wink* *wink* though, i never actually revealed the method to the public until after it was fixed, but i'm only half-serious LOL)
TheParkerazzi
2022-04-26
• 4 months ago
That's why I posted it, no response. No bigs...
kitty4D
2022-04-26
• 4 months ago
oh, you mean you emailed it to them? or you posted it here? if you posted it here, you'd be disqualified anyway. if you want me to test something out, i can. i've thought about if it's possible to inject something besides an image in base64 into the profile photo, but i looked at the Go code and i think the only way to potentially do it would be to create my own node and then my own backend to directly push. @petern @nader @LazyNina @mossified just cause i'm writing this on deso and i don't know if it's an actual potential exploit, i'm tagging y'all
TheParkerazzi
2022-04-26
• 4 months ago
I'll ask him again... it's def there
TheParkerazzi
2022-04-26
• 4 months ago
Discord. Prob Emailed too
Clark_Renfort
2022-04-24
• 4 months ago
Yeah it's still just a series of money siphon moves Inside buddy payday There's no sense to the plan
kitty4D
2022-04-25
• 4 months ago
i mean, there is a legit website with real functionality, and a lot of work was done in a short span of time.. i don't doubt that there's been plenty of funky stuff that's happened considering crypto is involved and it's unregulated and at least one person at the top seems to have a fairly cavalier attitude in regards to legal implications, but that's only based on hunches, and regardless, i don't think anything was necessarily done maliciously or with serious malintent IF anything funky has occured. but i think this about everything lol
Clark_Renfort
2022-04-25
• 4 months ago
You are perfectly non blaming unprivate investigator
silenthand
2022-04-24
• 4 months ago
Negligent leadership, chart looks like a pump and dump, the idea has legs but from the looks of it, it's run by clowns
kitty4D
2022-04-24
• 4 months ago
i mean if it were a pump and dump i don't think they'd still be here lol. i think there have been plenty of boneheaded decisions made and i think the almost willful lack of communication with the community is why those things happen, but i mean- you're commenting on my post here because something legitimate was built and exists. i'm critical, only because i know what's possible. i wouldn't give any feedback if i thought there was nothing here.
silenthand
2022-04-24
• 4 months ago
For sure. I commend your effort to help refine. A projects chart tells a lot when individuals assess how realistic an outcome looks. My point is that currently we have a 200% move followed by giving almost all of it back... it doesn't bode well for new investors or scream confidence.