Post by kitty4d
2022-01-04
• 8 months ago
IMAGE
okay so i mentioned this Hive blockchain the other day, i had just kinda made a post yesterday, thinking it was just a test. maybe 18 hours later i logged in and had a ton of notifications, my post started receiving a lot of upvotes and on Hive an upvote transfers a certain amount of money. well, somehow in not even 2 days, i seem to have over $70 put into my posts. i'm not 100% sure how much of this actually comes to me (it takes 7 days before it pays out - i think during that 7 days the post can continue getting upvotes but again, not 100%), but just half of that seems pretty wild for having joined and making a post with no followers. anyway, i'm definitely keeping this site now in my arsenal. would seem silly not to. and i'll keep reporting here with what i find out. i've posted many DeSo images and an image with my CloutFanz link, but i'm not shilling anything. it seems like a Reddit-style site. if you wanna join, again, i guess it'd be nice to use my code -
https://ecency.com/signup?referral=kitty4d
- though i honestly don't know what it gives me. if it provides me any kind of bonus, like i know one type of referral code they have does (but the site it's for has no openings for new users), you can always remove me from getting it at any time. but if it did that maybe keep me for a day or two. i'll be your best friend maybe! 😊 so once you sign up, you can find me to follow at:
https://ecency.com/@kitty4d
though i prefer using this site, but there are special points you can receive at different sites so there's apparently always a reason to still visit ecency -
https://peakd.com/@kitty4d
so long-form posts are the norm here it seems. when you want to make your first post, use the tag for intro (it autocompletes) and just post it into your personal blog. my intro is really long but right now (6 hours after posting) it has $43.97 and 69 (woo!) likes:
https://peakd.com/intro-post/@kitty4d/the-stuff-that-i-make-is-this-thing-on-pt2
here's some resources too:
https://hivestats.io/@kitty4d
- replace with your name
https://jryze.me/hive/
- beginner's guide if you're a creator, i think maybe you'll like some of what i'm including in this image too. the sites have like terms and conditions and include things that are very nice to know upfront. if nothing else, there are some interesting things to take notice of when you visit these sites that you can take back here with you to write about! (if you're on desktop or maybe any platform, you might need to open this image in a new window to actually see it full-sized) THIS PORJECT LOOK GREAT DEV TEAM VERY HANDSOME GOOD JOBS MOON TIME SIGN UP USING:
https://ecency.com/signup?referral=kitty4d
#2mature4candy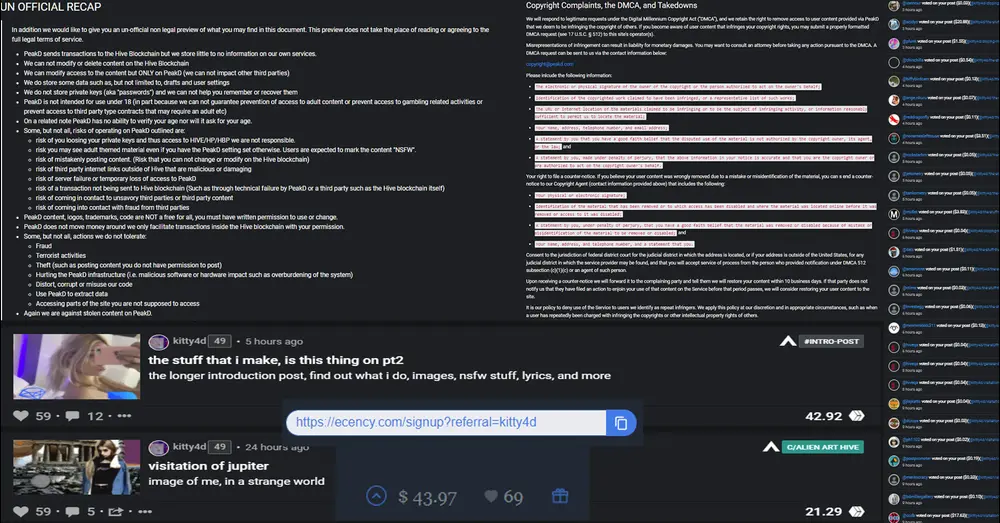 comments
kitty4D
2022-01-04
• 8 months ago
here's that image, in the actual size that it was when i uploaded it, since even opening in a new window doesn't seem to provide the original image: https://external.fourdown.org/files/hivestuff.png
striga
2022-01-04
• 8 months ago
https://ecency.com/@striga
striga
2022-01-04
• 8 months ago
I would like to try this, the first wallet I opened when I entered the world of NFT was for HIVE... I have a verified account at NFTShowroom. I'll see if I can use the same wallet here.