Post by kitty4d
2022-03-22
• 6 months ago
IMAGE
this one goes out to @Dylanjaggerlee @mossified (note: NOTHING in the image i included is a problem to me, these are just things that are similar or are more off-topic to daodao than things i've posted which have been deleted) so i've had well over 15 things i've made or posted in the @DAODAO discord get deleted. it certainly has started to feel like a singling out. i used to make images, videos, and emojis in support of daodao. any time any of those things simply had some mention of deso, they were deleted. i'd get a message about "wanting to keep the chat clear on daodao" even though what about deso diverts from daodao? but whatever. and yes that has been as recent as a week ago. it's been for things other than deso too, i can't remember everything. i think i asked if daodao would have features like cloutfanz and that got deleted. last night, i posted about @TheDAODAODAODAO and my message was straight deleted with a message to take it to dao_ideas. i made only things to support daodao for the first 95% of my time and posted them, many deleted. i was asked to remove a video from youtube because it had video "only meant for discord". it's been shared here on deso since then, and i haven't seen any attempts to have it taken down. so i restored my original video but have left it with the edits i had made because of that request. i got messages from moss and dylan about this, dylan apparently deleted his messages before i saw them though i thought i saw in the notification that they might have been a bit aggro, i don't know though since they were deleted hours later when i decided to click to see. so what is it about a DAO that would be about the DAODAO DAO, which is what i posted last night, that makes it less on topic than a Blockbuster DAO? is it just that i'm not spending the money? IS IT JUST THAT I'M NOT SPENDING THE MONEY very #web3 of you guys do you even know what you're supposed to be in support of here why you didn't want to encourage the content i had been making, and instead stifle me, i don't really know. do you not like my pro-daodao/deso video because it includes clips from your own video on youtube? i specifically made sure NOT to do anything that would be mean with any of that content. i used it to make a bit of a weird narrative, sure, but i like the clips or i wouldn't even have bothered using them. i didn't know who you even are before i joined deso. still don't really. just a dude, i used to defend you in discord even. i used to include super nice descriptions in my videos, with links to daodao, the discord, info on what it is, calling it the "one and true daodao", etc. i've still got a big link to daodao on my website on almost all of the main pages, cause i haven't felt like changing it yet. i _totally_ understood not liking the video including the scam clips from highkey which is back to having its original title. i would have removed that one too if i were you. that was after weeks of this stuff that i made that one, i had left the discord immediately after posting it. i rejoined a day or two ago and i'm still in there now and if you want to kick me, you can do it. anyway i've transferred away 2 of my bronze tickets, my 3rd is up for raffle now to help my friend from ukraine*, the fractionalized nft i got from @BronzeDAO and @mp3 i really would prefer any tokens to be sent directly to 4down if possible (but it's totally fine, @mp3 is a cool dude for doing all that and he's always cool with me so i'm not making any demands of him because of this stuff ofc! <3). i'm sorry that i don't have tons of money, i was doing the things that i am able to do with the skills that i have, which other projects have appreciated and do appreciate, and i'm just letting you know since you've been asking for marketing ideas, about all of this. *and, i get it, people should be supporting organizations, i just want to help my friend a tiny bit, @deso mentioned looking for anything like this. i mean, me trying to support a friend in a relatively minor way or 16 DESO users whom i was also happy to help support in the small way that i could at the time is on the same side of the coin with the big organizations on the other - only mentioning that cause i had one person say something about my choice to raffle my ticket for my friend would be better for donating to a big organization and i don't know if that's perhaps an opinion deso would be sharing and why they don't seem to care even a tiny bit (and ty so much to the people who have helped, either by buying the NFTs or by helping directly, i've been able to send her about $200 which she has been very appreciative for, and i'll be paid by my new job soon so it'll be easy at that point to make sure she's ok). again, i like ALL of the things in this image! all of you are awesome and Seelz for sure is awesome (not tagging on purpose cause Seelz are positive-things only - i only left the tag for @mp3 since i also wanted to say he's a cool dude)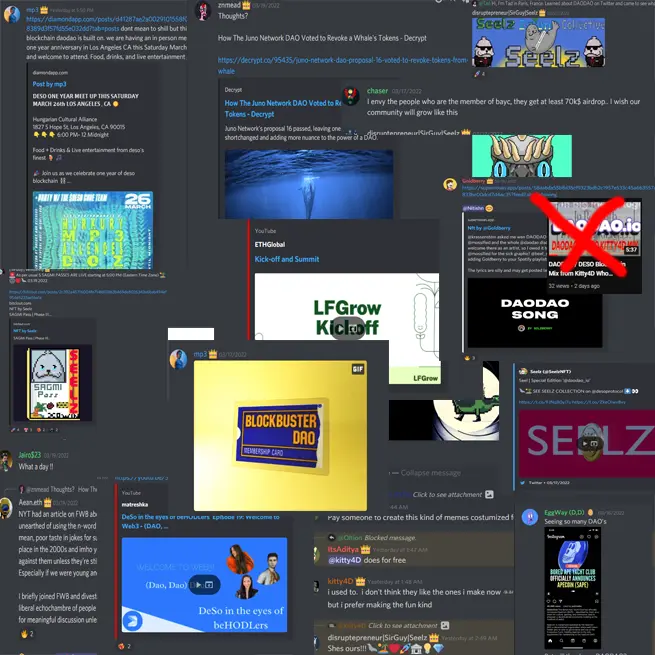 comments
ShadyAcres
2022-03-22
• 6 months ago
I know this hurts and I know you spend a LOT of time on your videos and it feels like it's for nothing but a lot of people love them. Keep being you
kitty4D
2022-03-22
• 6 months ago
oh i still do my thing, don't worry lol i'm just letting them know that i don't think the approach that's been taken has been the best i fully admit and have admitted to them that i like to get rowdy, and i'm pretty reasonable and stuff, and i know when i go a bit far, and i also know when other people go a bit far and continue to do so :D
ShadyAcres
2022-03-22
• 6 months ago
Facts
Cato
2022-03-22
• 6 months ago
Dylan and Mossified are idiots. Agree or disagree, that's the truth. And btw, DAODAO is a DAO if Nader and Core team own more than 50% of the coins? Think about that.
kitty4D
2022-03-22
• 6 months ago
and i guess on the 50% coin part, i assume that's because we know they own the majority of the gold tickets? i haven't done the math but i should, i think probably what would have made more sense would maybe have been to have a hard cap on # of coins a person can have, there should be some type of KYC since a DAO is kinda (if not recognized yet, it will be) a legal entity which would help enforce that. paying for the gold ticket could get you a larger amount of coins but the cheapest tickets altogether should account for > 51% of the DAO coins.
kitty4D
2022-03-22
• 6 months ago
i think @mossified seems pretty cool, i can't say i've seen him say anything where i didn't at least understand where it was coming from. i don't think he was deleting my content and he seemed to be pretty supportive of the fact that i was making stuff. i'm just tagging him so he's aware. he did ask me to remove the youtube video, i mean, i don't know if he even knew i had made edits to the video (if he had, i think he would have been speaking for himself, if he didn't, i think the message probaby came from elsewhere).
mp3
2022-03-22
• 6 months ago
gang
Oltion
2022-03-22
• 6 months ago
Wtf, why?
kitty4D
2022-03-23
• 6 months ago
why what? btw i've had you blocked on discord for quite a while, ever since you said "fuck you" or something like that to me and i think asked if i wanted a goodnight kiss or something.
Oltion
2022-03-23
• 6 months ago
Lol, so you blocked me. I was just messing around with you. Didn't know you take yourself and others so seriously or that you are such a sensitive... My ", wtf, why" question was because you're one of the most active members there with a lot of contribution and don't deserve that treatment. ✌️
kitty4D
2022-03-23
• 6 months ago
LOL yes i am so very sensitive doubling down is cool too though? do you think i cried about it or something? how serious do i seem to you about things here? you're the only person i've ever actually blocked. i was pretty tired, but it was pretty rude what you said, and you know, cause i know i was tired i figured i'd alert you about it and maybe i would have heard you out (no apology was necessary ofc, i don't take things that seriously after all) and then i'd have said how tired i was and no biggie. i so sensitive!🤣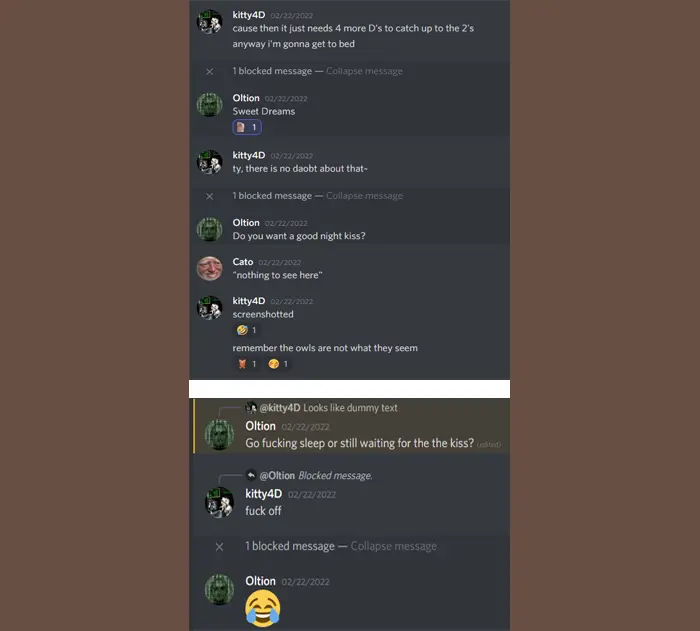 Oltion
2022-03-23
• 6 months ago
I just said that I was just messing with you but at this point whatever I say is like doubling down. So I'll go with just - I'm Sorry.
kitty4D
2022-03-23
• 6 months ago
and ty for what you said in your last message, that i don't deserve that treatment. (i just hope you also realize there's some maybe irony? one of those fancy words.. there in retrospect, but it's all good lol) who knows what they're thinking. i'd love to hear some thoughts on this: https://diamondapp.com/posts/57638b227ee13c57c2ed41812a8b3bf401956df6cce05f373d2477851129a2f4 :D
Oltion
2022-03-23
• 6 months ago
I would definitely say the same things to dudes. Even worse tho. But generally I "attack" or let's say tease, playfully, those who I consider friends, not complete strangers. All good 😊
kitty4D
2022-03-23
• 6 months ago
lol no it's literally just saying things that are like commonly used to disregard things that a woman says, that's all :D this isn't to say you did it on purpose or with that intent, either. ty for apologizing, it's all good. the thing in discord was also just something i don't think you would have said to a guy. whether i take it seriously or not, i believe you're probably not doing it on purpose but yet it happens, because people don't say anything. that's what it's about really, treatin us all like dudes :D sorry if it seemed like an attack!~😊
safonagastrocrono
2022-03-22
• 6 months ago
It's sad to hear this. I did join the DAODAO Discord a while back, although I left the server after a couple of hours. My background (quite a while ago) was in finance, the serious type. Therefore, to see the Core Team encourage people to part with their money without a single mention of the risks involved seemed criminal. It will end in tears, I'm afraid, and taint DeSo by association. It will need a third rebranding soon...
kitty4D
2022-03-23
• 6 months ago
i mean, i think it could work. i'm not super against the project or anything, it's not like i would change my opinion just cuz they don't act as well as one might hope. (plenty of things posted today that are less daodao-related than my last deleted post.. just sayin @Dylanjaggerlee if u care lol) i don't really know how my latest post isn't possible (1st vote: kick all non-gold ticket holders out), so i guess that'd be important to clear up, but i like the stuff the site is supposed to offer. no smart contracts hurts, but maybe a good use case exists
safonagastrocrono
2022-03-23
• 6 months ago
I'm not against DAOs per se, the opposite in fact. I'd love our website to be community owned via a DAO. But, it is a totally niche segment that won't solve the DAU issue, at least in my view. At the moment, it is bound to attract scammers, particularly given the lack of ethics from the leadership. If they were ethical, we would have heard the legal advice that they have received, if any, the KYC process they might be contemplating, whether there will be vetting, and how it may work... Given the verification farse, I wouldn't hold my breath. DAOs hold people's money. This is a huge responsibility, so a "few-clicks" DAO is just a terrible idea. Then there are the basic elements missing for DAOs to work in practice. DeSo needs reporting/accounting tools and off the shelf plugins to integrate DeSo into websites with traffic, like ours. Until then, they are just a gimmick sucking money from other parts of DeSo (CCs and NFTs so far). My 2¢.
kitty4D
2022-03-23
• 6 months ago
i agree with you, but i at least try to be an optimistic realist lol. personally i don't know how bitclout did as well as it apparently did at launch with things like anonymous founders, reserved profiles made for only the well-connected to make easy money on, etc. but it did, i guess! so anything can happen and that's also probably what they think lol
harmonicity
2022-03-22
• 6 months ago
Sorry to hear this
kitty4D
2022-03-22
• 6 months ago
oh, it ain't no thing if i were running a project, i'd love to have someone making so much stuff and creating links across the web for me for free so, i don't see it as my loss
harmonicity
2022-03-22
• 6 months ago
Can you create awesome free promo material for my projects instead? ;)
kitty4D
2022-03-23
• 6 months ago
lol. i mean, i don't have a lot of time especially now that i'm doing new work. i thought that helping daodao would benefit me and everyone else on deso, at least. but you can tell me what it is, maybe i can do something
harmonicity
2022-03-23
• 6 months ago
No worries! :) I was mostly joking as home life is taking almost all of my time and I have no new content at the moment Still can't understand why the DeSo core wouldn't appreciate the wonderful and fun promo materials you have put together. As you said, their loss
kitty4D
2022-03-23
• 6 months ago
yeah i mean apparently they just hired someone, guess that's some of those daodao dao funds? but i mean the truth of the matter is the only people who would benefit if the whole thing succeeds are the gold ticket holders,who also can basically vote to kick out everyone else LOL. i wonder if i'm even wrong there - that might actually be possible.
harmonicity
2022-03-23
• 6 months ago
I've come to realize that attempting to reason from their vantage point has become a rather tall order
kitty4D
2022-03-23
• 6 months ago
i mean i'm just wiping my hands clean now, i haven't heard anything from them. i'm just a user, so what does it matter. and they're likewise just a platform i might not use, so i guess what does it matter on my end either. they do what they gotta do, i don't take much of it personally, though the deleting definitely felt like it had gotten a bit heavy-handed on me (and when you don't want negativity, it's weird to create it unnecessarily). i just moved on to doing more DeFi work, so i'm totally fine lol
harmonicity
2022-03-23
• 6 months ago
Very cool. Enjoy seeing the work you put out on DeSo :)