Post by kitty4d
2022-01-09
• 8 months ago
quoted repost
Randhir
2022-01-03
• 8 months ago
I am considering if I should provide access to this tool that I have been building to 10-25 People who bid on and win one of the Editions of an NFT. How much would you pay for this - Lifetime, Annual, Quarterly, Monthly? Benefits: - Find good investment opportunities (@MarioNawfal @flanagan @GoatTrade @GoatInvesting @artz @jakeudell ) - See how you are doing (@BitCloutMusic60s70s80s @StarGeezer @cnzpll @Sandirose @TrafficCaptain) - Connect with the most engaged creators on the platform (@JDArmstrong @darian_parrish @JeffHawkins @scottscoin @FreeTrade @joejerome) Assumptions: - Ongoing improvements will be done especially look & feel - More metrics added along with more filters - Suggestions from the users considered for adoption PS: Besides obviously covering the cost of infra, development and maintenance, being a non-artist, I need to figure out ways to incentivize buys in my coin. This seemed like a cool way to do that. Especially if I build other such tools and I have a ton of ideas around this. What do you think?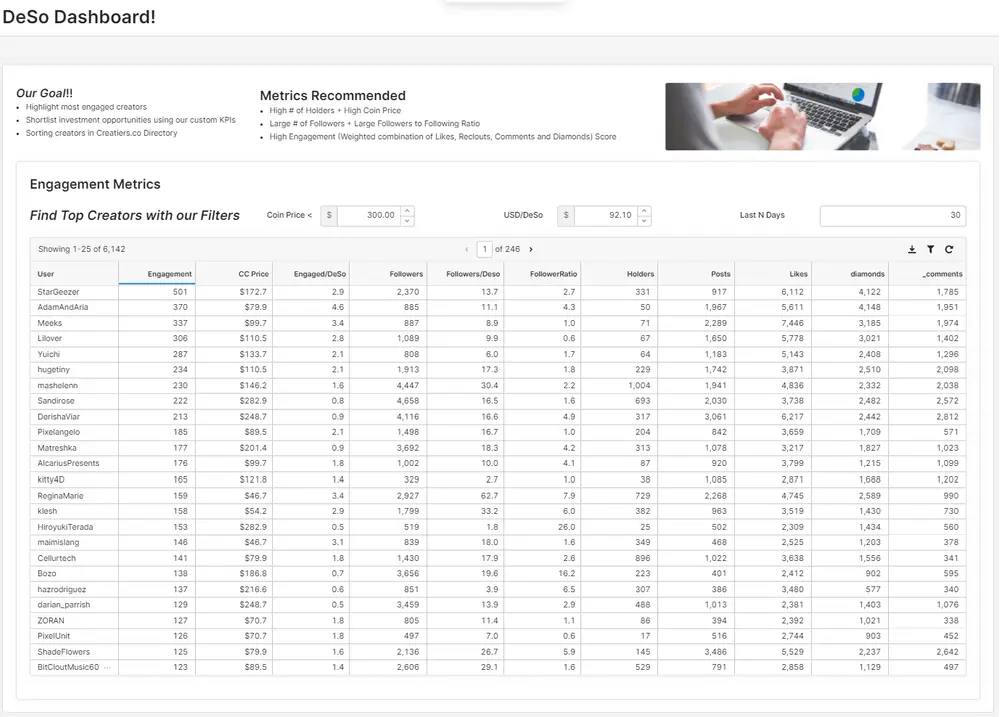 i missed this post since i wasn't tagged (not upset about that! i appreciate getting tagged twice so far already by @randhir in these posts, that's already more than i could have asked for) - this is from 5 days ago, ~top creators over the prior 30 days whose CC < $300~ i have the ~least number of followers~ out of this list - the top 25 of those top creators. *by over 100 followers* i'm 13th in terms of engagement, which the report is ordered by. i'm about to reach 2 months on the platform. so within my 1st month and a half, i cracked the top 15, with far fewer followers than anyone else. so when i wrote everyone who had bought my coin and i told them that i would be working hard to increase their investment - i meant it, and i did exactly that. unfortunately, and not just because of the deso price falling, it seems that this kind of engagement is not what people look for when they invest in coins. yes, i have cloutfanz. but cloutfanz has nothing to do with these stats - except for having more to do with my CC's current value than any of these actual stats which seems to be a problem! nothing else about my cloutfanz content is represented in this kind of report. in these 30 days i was also adding to cloutfanz and you do not see that in these numbers other than potentially some of my coin value, # of coin holders, and followers, when i would hope the rest of these numbers would be contributing most to those stats. so yes, in retrospect seeing these reports, it bothers me personally that @nader made a big deal about buying celebrity coins. i understand celebrity accounts are not represented in this particular report, because for some crazy reason their coins are valued very highly, despite the fact that almost 0 of those accounts add anything to the platform. it's NOT that i think people like @highkey or @RajLahoti or whoever talks about supporting creators and looking for low-cost coins, should have invested in my coin because of some feeling i had or based on how much work i thought i had been doing, i don't expect handouts or anything like that at all. sure, i personally gain from my FR%, but i put this work in because i want to do right by my coin holders just as much *if not more* than i care about what i gain from the FR%. it makes me distrust things that i see getting posted, about why people are here or what the point is of the platform. if i weren't on this list, i would want to be looking to see which of these other people in the top 25 had gotten investments over those 30 days. anyway, talking about this kind of thing along with other harsh things that i post where i call out @nader or @AlexValaitis or @deso or whomever, it's not that i dislike the platform - these numbers should show that certainly isn't the case. i back up the things that i say. the proof is in the numbers.
comments
Clark_Renfort
2022-01-09
• 8 months ago
It's About Time these things were said by someone actually interested in what can be done here So many of the so called hodl crowd have been fakes Long ago I said the coin meant nothing to me in terms of posting my own content Alas the global feed became based on coin size The real problem is greed
kitty4D
2022-01-09
• 8 months ago
yeah i realized quickly enough that my creator coin doesn't do much for me, a little before i made my posts talking about creators putting their FR to 0% was like the absolute worst idea any creator could have, which was the week of my 1 month being on the platform. twitter has tips. other social media blockchains have tips. the ONLY thing deso has to set it apart are the creator coins. SO GET IT RIGHT @nader @AlexValaitis come on we want this to work, if there are reasons why you can't do things, tell us! it's all good, we are happy to work with you
kitty4D
2022-01-09
• 8 months ago
maybe @meghanvita is the right person i should be tagging in a lot of my questions and comments about the platform. i think the numbers from the @randhir reports show that my engagement and placement amongst all users in such a short time with such a small following should make my opinions and questions valid. just hoping to help @deso out, what's good for creators should be good for everyone involved~
Clark_Renfort
2022-01-09
• 8 months ago
Ah to have the verve and hope the audacity I hear in you ! It's like me 200 days ago still thinking they have a shit about my opinion and trying to reach out as a person who would be willing to talk and help find a middle This was going to be something I had talked about for years and it can be The rah rah bs and the sycophantic whale worship was hard to get through the gas and the deflation inflation bomb and the coinbase and the rugs and the greed could all pass We could have a place for artists (actual) artists grow and find an audience 👇🏻
Clark_Renfort
2022-01-09
• 8 months ago
It just takes a bit more honest open communication The underhanded support of unworthy or worse dishonest actors is no way to run a platform and pretend to have high ground People will and would flock to an honest straightforward space to share their work and ideas We can create our own marketplace for our work if we can trust the people running the show And every show needs runners
kitty4D
2022-01-09
• 8 months ago
i'm actually enjoying also this other social media blockchain i discovered, it's different enough where it doesn't feel like one takes away from the other, and this way i'm actually earning on 2 different platforms. i personally think it would make sense for creators to have content they can post on each platform, and work together with other creators to help each other get seen and have engagement. i don't mean by posting the same content both places, but just kinda tag teaming ping-ponging between platforms.
Clark_Renfort
2022-01-09
• 8 months ago
What is it called ?
kitty4D
2022-01-09
• 8 months ago
hive
Clark_Renfort
2022-01-09
• 8 months ago
Benedryl
hugetiny
2022-01-09
• 8 months ago
Buying celebrity coins isn't going to bring celebrities here. Kendall Jenner has almost 1/4 of a billion followers between Twitter and Instagram. Why would she put any effort into a platform where the total universe of daily active users is 2-3k? There are some unique voices here creating content that's distinct from what is going on on other networks. @nader should be investing in the people who are contributing today and building something that has a completely different identity from other networks.
kitty4D
2022-01-09
• 8 months ago
obviously! i would not be here still today if it weren't for you, @AdamAndAria , @Sandirose , and @Meeks for sure. i don't mean to leave anyone else out on the top 10 here, all of you for sure played a part. you're the reason this particular user was retained. and this user reached this amount of engagement. y'all deserve something for that, right? i think so. and maybe in another month or two, i'll have had that same kind of effect! and knowing that you're rewarded would certainly be good for me and new users to see~ @meghanvita👍👍👍
Sandirose
2022-01-09
• 8 months ago
I think engagement with others is the most important thing for user retention. For most people, it's really shitty to share a piece of yourself through your words and feel like nobody is listening. It's also really boring to not have conversations. This is something I identified very early on.
mcmarsh
2022-01-09
• 8 months ago
I'd chat more but for the time zones and my waking hours 👍
kitty4D
2022-01-09
• 8 months ago
well, you know you're one of the reasons i'm still here too, maybe we don't get to cross paths as often but i was super psyched when i finally got to engage with you :D that's definitely not a lie! i'm not good at making bs up like that. i'm pretty sure i sent you a dm about it right after one of the first times anyway. i can't remember if the Yoda (and me saying Master Splinter) was the first real time or not, but it might have been.
Randhir
2022-01-09
• 8 months ago
If someone can fix the notifications, this place might have had more engagement. A Quote Post does not result in a notification and even if it does, the conversations resulting from it don't result in any notification. This imho is a big fail. If someone is chatting about a post that a person made, the person needs to know that there are people discussing that comment. Period. @DeSocialWorld - You guys seem to be the only ones listening. @ch0k1 - Something we should look at too.
DeSocialWorld
2022-01-10
• 8 months ago
We are definitely listening. But right now, we hear a lot more than we can actually deliver. Given the size of our team, and the focus of our team (country/language oriented). We are seeking for ways to scale
ch0k1
2022-01-09
• 8 months ago
Yeah, I also think notifications for quote posts and all its further engagement is definitely a must! I would also suggest as an addition to have a separate tab with detailed history for all the user's engagement activity because sometimes I feel the same frustration when I need to answer to a comment that belongs to someone else's post that I had previously started. What do you think?
mcmarsh
2022-01-09
• 8 months ago
🤗🥳
Sandirose
2022-01-09
• 8 months ago
Exactly this