Post by kitty4d
2022-01-12
• 8 months ago
IMAGE
quoted repost
fizzler
2022-01-12
• 8 months ago
I like rewards based on engagement but personally if people have ads on their feeds, I'm blocking them. One of the reasons I left Twitter. @DeSocialWorld is my main node now! And @supernovas for NFTs.
i have to do a quote repost comment to you so that i can include an image, surprised that desocialworld didn't add in that feature yet (cause they have added so many things that are lacking from diamondApp) (also @DeSocialWorld i need to DM you something, i am worried someone might take this if i post it public..) ~~~~~~ but what if you are one of their coin holders? why wouldn't you visit their page then, with ads, where you receive a benefit from those ads? but don't you use an ad blocker anyway? i do, but i would turn it off if i know the ads are helping creators directly. i mean, this is of course assuming the ads are not excessive. i would feel so much better about ads that i know are directly benefitting creators and people who are supporting the creator. ok so this image i made from screenshotting desocialworld since you said it's your main node. first i put the "hot" feed as the little inset. it has a little ad, i mean it is "giving credit" to the source, but this is an ad given as thanks for a service. i am not bothered by it at all. and i will say i'm not sure if desocialworld does a different hot feed than diamondApp, but the idea of the hot feed is essentially to be ads. when i have a post that makes it onto the hot feed, this is because someone who has spent a lot of money on DeSo has performed some action to my post. really, using the hot feed is like saying "yes plz big money people shove the content into my throat that you want me to see and i will not question your motives i promise i will strictly enjoy these things based upon their merits". i have no problems with it. then, yes, "Powered by DeSocialWorld" technically is an ad. also does not bother me. that same section on diamondApp is even more of an ad since it shows oftentimes the top creators all-time which is just 100% an advertisement segment. and look, i created what could be an ad there on the bottom-left. (@Bozo your post was just one of the first i saw that looked like it could be one that would make sense in such a position- not meant to express any kind of opinion about your post! also i would be totally cool with your post appearing like this on the page anyway) would that really make you not use the site if having that there was supporting the creator whose content you'd currently be viewing? i know there are awful ads and maybe initial thoughts are of popups and interstitials and things that really can take you out of the flow of things. it just boggles my mind sometimes when i see immediate reactions when i mention ads that say the person would simply never think to use a site that would dare do such a thing. because i understand the reason for this kind of principle, but i think this feeling is more about sites that use them in deceiving ways, or where it seems based on greed, etc. and since i am showing that ads actually are on the site already, i know it's not even the truth. (but like i said, i understand you may be going to a more extreme type of ad in your mind, but i don't want you to dismiss my idea because you are picturing something extremely different!)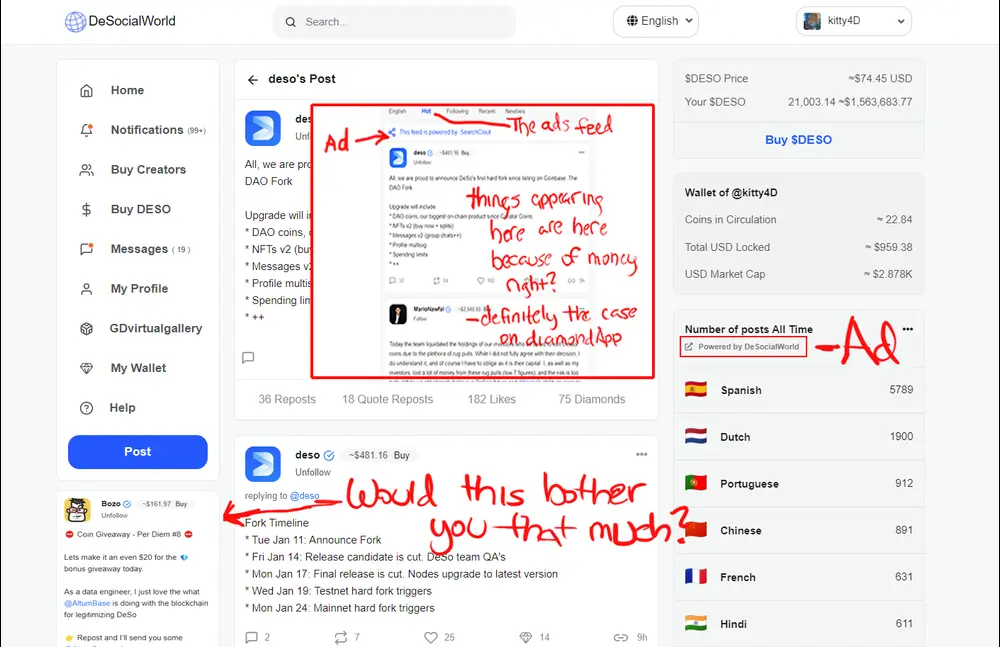 comments
DeSocialWorld
2022-01-12
• 8 months ago
Thanks for sharing all these ideas... we love being overwhelmed now we are getting more and more exposure Let me share on a high level how we select: - First of all we prioritize on features that make DeSocialWorld truly DeSocialWorld (more translations e.g.) - Secondly, we focus on more generic features - Then there's the element of work required to deliver Expect some deliveries first in the first category, whereas some of your suggestions are more in the second category.
Matreshka
2022-01-14
• 8 months ago
I would suggest instead of ad post on the bottom left to add current most engaged post from who I follow, which can be seen on @membercash so if you can incorporate this it will bring in a lot additional engagement. You can look at @Joinentre for the side posts example, I think it is a great think to occupy a space that's blank rn.
fizzler
2022-01-12
• 8 months ago
You specifically said "a node could run ads on a creators profile." So I responded about ads in a users feed which means on their profile. That is you click on their profile and start scrolling through their content posts. None of these are related to that and I don't mind these types. The bozo and tiny one line ads are cool. The hot feed is not an ad, it's curated posts selected through automation.
kitty4D
2022-01-13
• 8 months ago
i specifically said "1st thought i had was that a node can run ads on creator profiles + post/nft pages," i didn't mean the ads would be in the feed on their profile, the ad could be in the actual profile at the top of the page. it could be anywhere. i don't know how this hypothetical node would be designed to be specific about ad placements i only started talking specifics when you mentioned a specific node that you use, but the idea i posted initially gave no details on how the ads would appear. just the thought of an ad was all i presented :)
kitty4D
2022-01-13
• 8 months ago
what do you mean? i just went to your profile page, there's the empty spot bottom left, there's the "Powered by DeSocialWorld" on the right, technically there's also the current price of $DESO constantly advertising to you the crypto. but exactly, you're okay with this type of ad! i don't know why you thought i meant the kinds of ads you wouldn't like. when i originally mentioned using ads to fund creator coins, ofc i meant the kinds you're okay with.
fizzler
2022-01-14
• 8 months ago
Yeah so we just need more DAU and then a node to implement them. Put all your ideas into a kitty DAO that funds a killer app node. 😻