Post by kitty4d
2022-01-12
• 8 months ago
IMAGE
@nader @meghanvita @AlexValaitis (psst still never heard back from ya A/V but I guess i'll be the DeSo A/V club until i do) i've been trying to think of ways to have our creator coin's value actually be dependent in part on our performance as a creator.. since it feels like that would be in line with the spirit of the feature. and this feature is the true one and only unique thing that sets DeSo apart from anyone else, so i'd love to help figure out how to make it work better. btw, i don't care about any new feature, i care about getting this old feature correct first. 1st thought i had was that a node can run ads on creator profiles + post/nft pages, having all ad revenue going to a creator-specific unique "adrevenue" private key which would split that ad revenue between buys of our coin and direct DeSo sends. creator picks "AD %" split for this, which may influence someone's decision to invest. ideally NO ONE has access to this private key, though i believe whoever would code the auto-CC buy and DeSo sends might require access to it unfortunately; but at least, the creator does not have it; if creator wishes to use those funds, has to give 30 days advance notice announced on profile and that pkey will then after the 30 days sell its creator coins and divvy the DeSo out split amongst all other coin holders by coin share %, functionality returns to normal after this and it begins accruing ad revenue buying into your coin again. so if you post content that's popular, and/or if the creator does a lot of good work sharing their posts on other platforms, the value of their coin will be affected from this external source and it can provide some stability to the coin as a value sink. (though, how much would ad revenue really bring, i'm sure we're talking small amounts, but let's find out) 2nd thought is just that all that DeSo that's sitting in unclaimed celeb accounts could go to a much better use. instead of letting those people claim their accounts once the platform is successful, which means they contributed nothing (and that money seems to really be marketing money), yet would be taking the money they had no part in helping to be worth anything, just take it back and don't make a fuss about it. it was never theirs, don't let them know or it could negatively impact their decision to join one day. but take that back, and start looking at the #s from say the engagement reports that @randhir generates, or track views specifically on diamondApp/bitclout, and likewise create these new unique pkey "creatorAward" wallets that no one can access outside of very similar ideas from above. decide some amount of DeSo that would go out as rewards each week, maybe even have rotating goals, whatever you think to spice up what creators try to do each week to win. also have a similar CreatorAward% option for people to set, maybe don't allow this to go above 50% (perhaps this would be the case for AD % also). start using that DeSo that's just sitting there doing nothing in unclaimed accounts in a way that will stimulate engagement on the platform. do it now before some type of management/agency company just claims it for the person - which of course surely must fall well outside what i imagine the spirit of the intent behind having that "free money" there for the people to claim was at conception. (almost just seems like stealing, which it also feels like it would be the further along things get where devs do all this work and then a celeb just is like "cool i'll take my free money now thx devs i don't really plan to engage just gettin free investment for myself peeeace", but what do i know really) but really, just do it. just do something with it. so yeah, maybe you all there in the big @DeSo Foundation Tower have some pretty cool ideas that could also see the creator coin value be directly affected by creator's actual creativity and creations! in fact i am sure y'all have some dope ideas. i just wanna get the idea sharing to start somewhere, don't be shy. creator coin is an amazing idea and let's fix its problems, maybe some of what you're doing for DAO coins can be simulataneously ported into normal creator coins? maybe not? (if not, can you share reasons why? regulation worries? it's all good just would be really cool to know) but i know i would rather creator coin be made to work more like the vision says it should work, i know many others feel this same way, before you tackle these new features for the platform. fix what's broke, don't just create a pile of broken toys, you know? we love u <3 thx for listening and @AlexValaitis i am SURE at least you might respond since it's been since dec 27th now since you kinda wrote your word about responding to me, on this immutable blockchain, where we pray before our gods of accountability on a daily basis~~~ 😊😊😊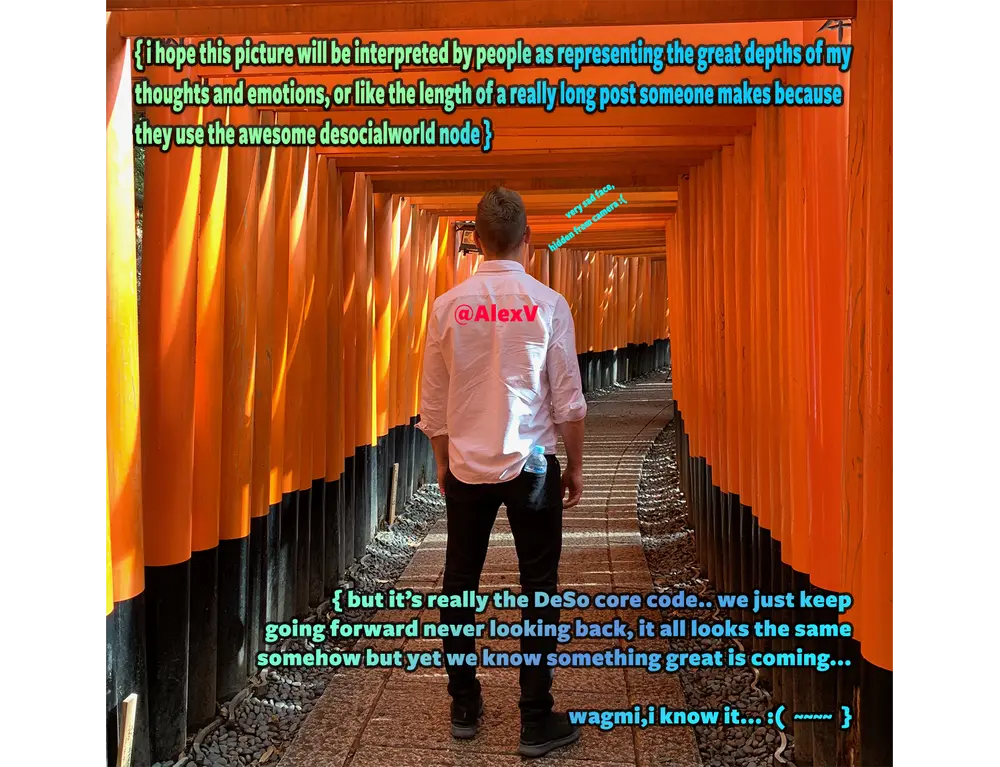 comments
Randhir
2022-01-12
• 8 months ago
The ad revenue on the profile could really be a node idea ... maybe even something @JasonDevlin can pick up with @CloutCast ... if I had all the resources, I might have just added this to @CreaTiers, but it doesn't align with the core of what @Creatiers is about. Having said that, we do contemplate a part of the Creator's earnings going back into the coin (as NFT royalty).
kitty4D
2022-01-12
• 8 months ago
yes, I meant these as node ideas. i just tagged those DeSo top dawgs because i'd like to know ideas they may have. but the unclaimed money thing would definitely fall to them. and while if another node magically started rolling in the dough, it would certainly be cool of them to do prizes like this- i think for DeSo Foundation this kind of thing would keep that money still being technically used for marketing, since increasing engagement via this kind of promotion helps with..marketing. with the added bonus of giving some more beef to coins.
fizzler
2022-01-12
• 8 months ago
I like rewards based on engagement but personally if people have ads on their feeds, I'm blocking them. One of the reasons I left Twitter. @DeSocialWorld is my main node now! And @supernovas for NFTs.
DeSocialWorld
2022-01-12
• 8 months ago
We are happy to have you on our node
fizzler
2022-01-13
• 8 months ago
It's great. BTW I'm not talking about side bar ads or little one line ads. I'm talking about the way twitter inserts ads into the feed and your feed becomes more ads than actual posts of those you follow.
DeSocialWorld
2022-01-13
• 8 months ago
Yes, that s…ks
vampirecampfire
2022-01-15
• 8 months ago
This is exactly what I came to comment! 👏🏼 I saw the word "ads" and lost interest already. Ads were the entire reason I sprinted away from all those giants. 🤦🏼‍♀️
hugetiny
2022-01-12
• 8 months ago
I'm all for idea #2, I mentioned that in a comment earlier this week. It's absurd so much $DeSo is locked up in people who have done nothing for the community. @kitkat and @cnn are never coming nor is @heb or @emmawatson Free up those coins