Post by kitty4d
2021-12-12
• 9 months ago
IMAGE
saturday, wait and sunday always comes too late @BadassBaboons @Designsta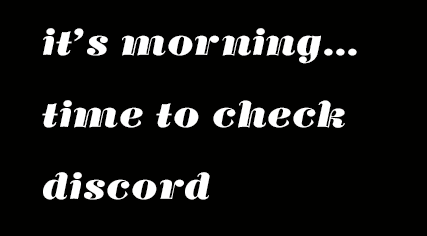 comments
kitty4D
2021-12-12
• 9 months ago
for reference: hot dog face gif https://giphy.com/explore/hotdog-on-face wasted https://knowyourmeme.com/memes/wasted see also https://www.reddit.com/r/GirlGamers/comments/i0yta7/random_guy_on_discord_after_i_mention_im_a_girl/
brootle
2021-12-12
• 9 months ago
🤣
MayaCoin
2021-12-12
• 9 months ago
😂 I don't know how you get so much inspiration
kitty4D
2021-12-12
• 9 months ago
this one came to me in a chat in the @BeerBuds Discord last night. i used the hot dog girl GIF, and said "me when i open discord in the morning" - at first I thought of just posting the GIF + text (this was last night, i didn't know about any meme contest). then i thought about putting myself in the image. cause i really don't post much on my profile that isn't my creation. image macros are old news lol and so I spent a good 3-4 hours making it! then i saw there was a meme contest this morning, and i was like ohhh do i have something in my pocket~!
MayaCoin
2021-12-12
• 9 months ago
😂 haha thanks for the background, I'm impressed by your dedication
kitty4D
2021-12-12
• 9 months ago
for me i feel there is usually some kind of odd logic that creates my weird ideas. the inspiration is just words i heard or some combination of feelings at the time that made me access some memory, and whatever thought that was provoked will combine with something current and maybe something magical coalesces. but - i really like this image, i think this is one of my favorites i've ever made. i didn't even think of putting the "wasted" on it until i was done - and i totally forgot to even mention that part of creating it in my last comment!
kitty4D
2021-12-12
• 9 months ago
just writing this for my own little personal log! i did the hot dog girl with me- i was not happy, hot dogs were not consistent, my hair was distracting in the animation. did many variations, added frames w/no hot dogs, just me sticking my tongue out, trying to find balance. then i remembered adjustment layers, found posterize level that i liked. adding that must have triggered a thought about some GTA style, and i thought having the "wasted" would be funny. like, girl is blasted by D pics, slow motion death, news at 10. making the little flash = 😎😎
MayaCoin
2021-12-12
• 9 months ago
Hahaha, really impressed by your inspiration, you clearly have lots of thoughts going on