Post by kitty4d
2022-04-26
• 4 months ago
quoted repost
deann4ik
2022-04-26
• 4 months ago
@zordon @diamond How young does a user have to be to use @diamond ? I know @desofy age starts at 17+ We have 11-12yr old kids here
question - what happens when a person under the age of one app's TOS has joined using a different app, but posts onto the blockchain. how does the one app know to exclude their posts? even though showing their posts includes a user who would be breaking their own TOS. + since the TOS for all non-mobile DESO apps (using Identity at least) are having to abide by a TOS dated Nov 2020, shouldn't a solution be figured out? maybe some new daos will want to build deso apps. just another question to go along with it. @deann4ik @zordon @nader @mossified
comments
NowAndThen
2022-04-28
• 4 months ago
I still can't figure out why everyone doesn't have to be ID verified to have accounts.
kitty4D
2022-04-28
• 4 months ago
considering NSFW content is not against the rules, yeah, you'd really think so! that's why i used to keep a list of all the sites i am verified at back when i still had my content on cloutfanz. i'm verified at 7 sites, with rigorous checks for the most part, but i can't get verified here where dudes gettin verified left and right sayin they a friend of a friend or somethin LOL
NowAndThen
2022-04-28
• 4 months ago
If there's a gender (or other) difference with the verification process, then there should be cold, hard data that can make it show up in black and white. Statistics are pretty hard to argue with when facts are shown visually. As far as being verified by ID, I'd think that requiring verified ID would also be a means to eliminate bots and other potential malicious activity. I can certainly understand now why other social media sites only permit you to have one account. There is nothing preventing users from building up accounts here and selling the actual accounts at a later date, either. Think about the consequences of that situation. Speaking of potentials, are you aware of our most prominent (and poetic) coin-holder and follower....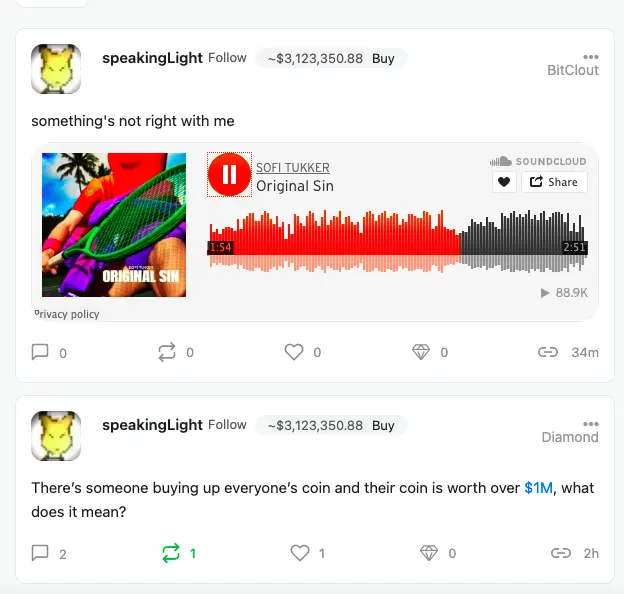 kitty4D
2022-04-28
• 4 months ago
one trick about requiring ID is they have to be sure children can't get to it. though right now a child could enter email or phone number (without having any DESO), which would each be a COPPA violation. enforcing the TOS maybe would also just be a good idea. i didn't know there was a gender difference with verification. i saw people talking about it though. i mean deso foundation is for sure a bro club, they're all high fives and drinking each other's juice. and i dunno what's up with that acct. i saw it before, what has deso said? same as usual?
NowAndThen
2022-04-28
• 4 months ago
I'm not the one claiming gender differences, and I'm not convinced about much without seeing the data behind the claims. Data is hard to come by around here, unless someone has curated it first.