Post by kitty4d
2022-03-17
• 6 months ago
IMAGE
NFT
i'm doing this for my friend who fled Kharkov, she's in Poland now, with her mom- and her sweet dog was injured on the way (link to video of her and her dog in the multipost) i'm not comfy making posts like this but she needs help and i want to help her, so it would be awful of me to not try hard to be able to help her when everyone she would normally depend on is in the same situation. she has to live in Poland now indefinitely and she shouldn't need to worry about money. tickets are 0.2 DESO for a chance to win a bronze @DAODAO 🎓MULTIPOST🎓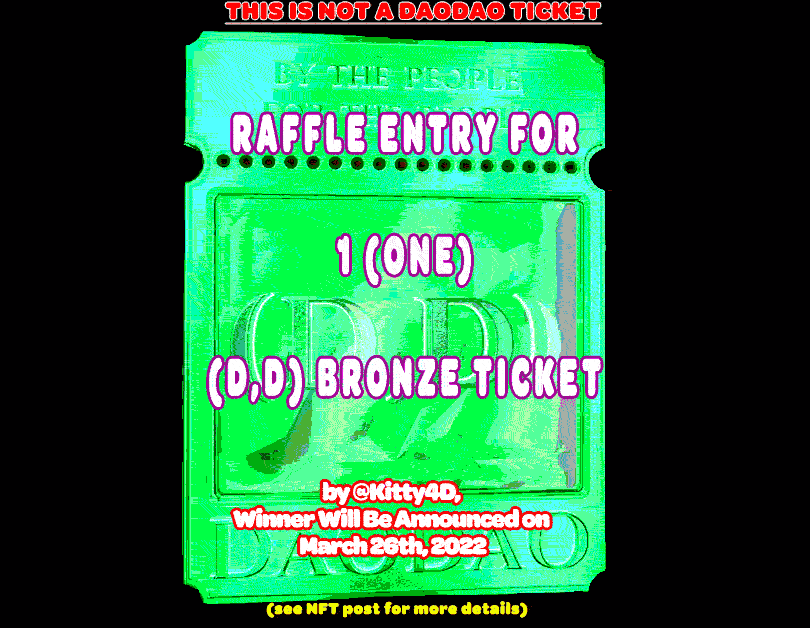 comments
kitty4D
2022-03-17
• 6 months ago
the raffle ends noon (eastern) on march 26th, please see these links for info on what the bronze daodao NFT is: Bronze Ticket NFT: https://diamondapp.com/posts/274bc76cf7711f9e9ec025dced7d5f02d2eabc6ae8291f2175e77cff648d157e looks like lowest price is around $118 right now. and the equivalent in sapphire daodao NFTs is still 2.5 DESO vs a chance with 0.2 DESO here. more details on it, what its value is, what it does at https://daodao.io and on the discord @ https://discord.gg/daodao
kitty4D
2022-03-17
• 6 months ago
there is 1 winner, to be determined on march 26th. the way the winner will be chosen will be transparent and verifiable by all, but please take note of these details. (also, if this needs to change to actually work, i will alert all, so "subject to change") when the raffle ends at noon eastern on march 26. the closest post made prior to that time will have its posthashhex taken and transformed to a number in the range of the lowest # ticket to highest #. (using the modulo operator)
kitty4D
2022-03-17
• 6 months ago
if people are jumping around not buying in sequential order, this could mean that certain numbers have a better chance of winning, because if the result does not exactly match a ticket, the closest ticket # under the result will win. (price is right rulez) you can buy as many as you want, but i like that someone can own a bronze ticket for just 0.2 DESO. but, back to the reason for the raffle - my Ukrainian friend needs help, i want to help her.
kitty4D
2022-03-17
• 6 months ago
it's been hard to be in contact as she's gotten into Poland, internet is not available and though i'm ofc very worried i'm sure it is just that everything is so hectic and as soon as she gets a connection i will hear from her. i would really like to take some of this burden off of her and her mom (and her dog who needs her paw looked at, though hopefully it has healed on its own). i planned to have her take a photo with my username to help show that i know her, but this is important to me so i am making an exception..
kitty4D
2022-03-17
• 6 months ago
i would normally want to provide as much info as possible to make this as trustless as i could, but it's more important to me to help her, she deserves it and just because i am not so comfortable with less info to provide right now doesn't mean i can't try my best for her, when i can't imagine how awful it is for her. but i will get a photo from her as soon as possible, i hate asking anything of her but she also knows that people would be trusting things and she will be very appreciative.
kitty4D
2022-03-17
• 6 months ago
if for any reason (and i'm sure everything will be fine, but if she loses her phone or something) i can't get in touch with her in a reasonable amount of time, i will happily donate the money for other Ukrainian refugees and will figure that out only if necessary. but she will be fine, i know it, i just need to wait to hear from her. i told her to maybe just come here and stay with me, but she doesn't want to be far from home. she wants to go back ofc. i really hope she will be able to. :(
kitty4D
2022-03-17
• 6 months ago
i've made a few posts about her, here is the most recent which shows how sweet she is with her dog: https://diamondapp.com/posts/42079cbc41bf0337d8240b7a3d0ed8a4ad941bc44b12d99895ffc06c7cad87a2 please feel free to ask me questions, ofc if you buy multiple tickets this is good for my friend and increases your chances of winning. i know that she will appreciate it, and so will i. i know this is a super long thing but i just want to cover as much as possible. tyyyy <3
Panini
2022-03-26
• 5 months ago
just got one & shared, sorry not to see it before. you are a kind friend, I wish them well 💕
kitty4D
2022-03-26
• 5 months ago
ohh ty so much, i didn't mean people buying the raffle ticket though, i was trying to do a free giveaway for some raffle tickets, obviously it wouldn't help my friend but someone had donated DESO to me and so i tried to give some away. the only people who entered were people who i told to enter cause i was worried no one was going to enter to win LOL. but i mean maybe i also was shocked about the actual buying of the raffle tickets too, i just wouldn't make a post about that ahaha. ty so much, it's very kind of you! <3
Panini
2022-03-26
• 5 months ago
all good, ☺️ so extra in! cheers
LUI5A
2022-03-25
• 5 months ago
I appreciate your initiative and would enter it if not for my wallet's lightquidity - still not ready to top it up. I hope your friend gets all the support needed, and hopefully my contributions to Ukraine elsewhere helps other people needing support just as much 🙏 All the help Ukraine can get rn is precious!
kitty4D
2022-03-25
• 5 months ago
ty <3 i'll also be donating more when i can. i've been to Ukraine, it means more to me than i would post about online. i didn't know how it was going to be for my friend at first and had my own issues about asking for money in such a direct way, but when she told me more, i felt selfish to not try to do something for her. i hope things end soon and i know Ukraine will be stronger than ever. tho at great cost, the benefits to the children yet to be born will begin to outweigh things. this is how i try to look at it, though i still cry. <3
LUI5A
2022-03-25
• 5 months ago
It's heartbreaking! Takes my words away and brings tears to my eyes too. That's why actions are worth more than 'asking' words rn - focus on that, cause your doing the best that you can to help a friend in need in times of war. No hesitation or apology needed for that ❤️‍🔥
CloutWomenUnite
2022-03-17
• 6 months ago
She needs to work with the volunteer organization there. They are providing necessary support, there are also groups that she can connect with. Also, you may want to work with @DeSocialWorld, a few of us donated funds to support Ukraine.
kitty4D
2022-03-17
• 6 months ago
i hope she can get all the support she can get of course. <3 i've also donated funds here, if she finds that all the support she needs is there, i will be happy to donate the money to an organization in need. i just thought i could use one of my bronze daodao tickets to help my friend😊
CloutWomenUnite
2022-03-17
• 6 months ago
Love the idea of using bronze NFT. Let me know if she needs a link to the Facebook support group. She will be able to connect with other refugees.
kitty4D
2022-03-18
• 6 months ago
ty, i asked her, so i will let you know!!
4down
2022-03-17
• 6 months ago
If my number comes up give it to #2 or the next nearest number!