Post by kitty4d
2022-01-27
• 7 months ago
IMAGE
so just curious what everyone thinks about this:
https://www.vice.com/en/article/y3dm8k/model-sabrina-nichole-catfish-scam-interview
i am wondering if this is meant to be a joke. woman with most people pretending to be her. and here we're also pretending to be her for the purpose of creating this article to get clicks. here are some things that made me wonder: - the article starts off saying the writer had someone who "slid into my DMs" (btw, all interview answers about DMs also refer to people "in DMs" and not using DM as a verb, just something i notice) and tried to sell photos in order to raise money for a sick grandmother. - conveniently it looks like the article used to maybe link to a post by the woman on IG, maybe that would have been proof, yet unsurprisingly, the post was deleted - even though the article isn't a year old and the posts on that account go back 150+ weeks. interviewer asks her when she first noticed it was happening. the response from her - "I had a group of people who got into my DMs on Instagram back when I was pretty small." she says "about 6 years ago", article was posted april 2021. I discovered that Sabrina was Playboy's Cyber Girl of the Month in April of 2015. (congrats) - wouldn't she remember that, isn't that the likely first source for the photos? i dunno just seems weird. and even if her IG following was still small, the immediate next part of her response is "That really bothered me, like 'I don't fucking know you, why are you talking to me like we're friends?' One of them even started getting mad at me because I didn't go and see him." but surely there would have been some expectation, even hope, that her reach would grow as a result of the playboy thing? seems like a big deal. obviously that's not some excuse for anyone to be rude to her. i don't know, am i crazy thinking the person who wrote this article is literally catfishing the reader by pretending to be the girl? - i don't know there's just some weird stuff here. like, she says she can't be on any dating app because they assume it's a fake profile and how even her fans don't believe her dating profile, though why would fans even know she's on a dating app? but i mean if it's true i sympathize, i guess i would take a photo of myself holding up a piece of paper saying "hey this is me on hinge i joined on this date and the person holding the camera is holding me hostage plz send help" (just as a gag, but surely there should be a legit response to this by a dating app company and then the police could handle the verification process). then when she talks about people who may have been catfished, "But at a certain point it's not my problem. I don't need to give them their money back. In the nicest way possible: I wasn't dumb enough to fall for it." who in their right mind would think SHE should be returning money she never received? - seems like something the author might assume people would get mad at her about.. "In my mind, there's no one that I have never met in person, who I have no proof that they actually exist, that I would ever give a thousand dollars to. I still feel bad for them, but I just wish that they would have thought so much harder before letting go of their hard-earned cash to somebody who [they] have no face, no name, no address [of]." - i mean they have proof she exists by way of pictures, and they have a face or i guess body at least, i dunno, i don't know these fake profiles. and then the interview closes with this statement from her: "Please, take more time to care about yourself instead of going 'oooh, hot girl. Let me give her money. She will love me.' And then don't go yell at the person who it actually is after you're done. Yelling at me does not get you your money back. Yelling at me does not get you your respect back." i can't imagine what it would feel like, so again, not judging the woman. i just think that if you're writing about the "most catfished person in the world", it would be a pretty funny joke to pretend to be the person yourself. or, like, maybe the interviewer himself got catfished. do people get paid for getting interviews in something like vice? @DeSo people, I leave this mystery now to you. What do you think is going on here? i found the link to the article at
https://switter.at/@Gongzero
in case you think this could be a clue. *** i think the interview could be totally fake and this was written to generate lots of clicks and shares, but under the guise of trying to help educate people about these scams in order to make it okay to continue the tradition of people pretending to be her in order to make some money *** but i have no idea, that's why i'm asking everyone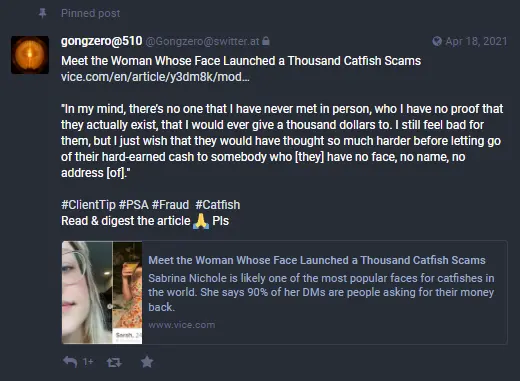 comments
MarkHumes
2022-01-27
• 7 months ago
Consider the source this is in vice.
kitty4D
2022-01-27
• 7 months ago
so do you think it is just obviously a fake article? like some kind of attempt at master troll? i don't have any knowledge about vice really for that to help be my guide
MarkHumes
2022-01-27
• 7 months ago
vice is kind of tabloid and try to be edgy they try to cover what they think is taboo hence their name. I am not saying there was no interview but what got written may be greatly edited.
hugetiny
2022-01-27
• 7 months ago
The writer at Vice got catfished, right? It doesn't make any sense that this real person can't join a dating app.
LaxContext
2022-01-27
• 7 months ago
You should be more trusting that people are who they say they are.