ASG
2022-03-01
• 11 hours ago
Shootin' from the hip. Founder @BitsTODAY Product marketing, GTM strategy. 🌙 🔜
Real things that happened this last year that OGs forgot about and new users will think are a lie: @farokh @artz @jakeudell @craig @dharmann started a boyband and their hot single produced by @BennyBlanco got held up mid production. @connormitchell got the @pulse logo tattooed to his asscheek A teenager named @sigil built a $clout exchange and received an irl investment from @dharmesh after he offered $100k via bitclout post The infamous rise of @Da5id. The rise and fall of @Lu1s and the seed phrase scavenger hunt. @pulse creates a "creator coin speculation" discord channel and the level of degen activities that followed web3 had never experienced before. @loganpaul claims his account and does a clubhouse room with @jakeudell the day before his fight with @floydmayweather @maebeam accidentally makes EVERYONE AN ADMIN. Chaos ensues. People blacklist their friends and enemies. Someone pins a post that says "poop" to global. @MarioNawfal becomes platform villain by spamming DMs. @HPaulson convinces him to put a shoe on his head. Mario goes on to become a platform hero respected by the community. 🙆🏻‍♂️👞 @douglass hosts a private 2 hour zoom call with Deadmau5 and his top 10 coinholders. @Dylanjaggerlee literally sells his Range Rover for $deso. @Ghozt tags a bitclout graffiti mural accross an entire wall in Berlin. @ChingonETH falls in love with @barbiegraveyard and they make some very NSFW bets 🪒🌳 @bellathorne posts her seed phrase and @highkey does spectacular damage control. Scams. So many scams. @charlie designs a bitclout monopoly board as a joke and and due to overwhelming demand ends up developing an actual production run of physical @cloutopoly board games with the "help" of @olmstead. Founder's reward gets paid in creator coin 😂 Rugs. So many rugs. @NachoAverage sets a world record for longest continuous zoom call. @ClayPerryMusic and @wendyleigh meet on @nachoaverage from across the world and get married. @chetblong gets into a car accident live on @NachoAverage People meet from all over the world in Miami at the first official bitclout meetup for a night of questionable jerk chicken but unforgettable vibes. @RajLahoti creates the "Rajpull games" @RajLahoti and @MarioNawfal have major beef I don't even remember why but the clubhouse rooms were absolutely lit. A-list celebrities like @pamelaanderson @tyga @ab mint their first NFTs and do it on DeSo. I'm sure there's plenty more I left out— so today I'm glad that myself @nvo and @dripcult penned over 200k words documenting all this and much much more for the history books over at @BitsTODAY. Miss out on DeSo season one and need the recap? Been here since block 0 and want a stroll down memory lane? Pop open an issue of BitsTODAY. Any issue will do, but if you're looking for a place to start, I recommend here 👇🏼 001. "For Artz."
https://bit.ly/3ID5smr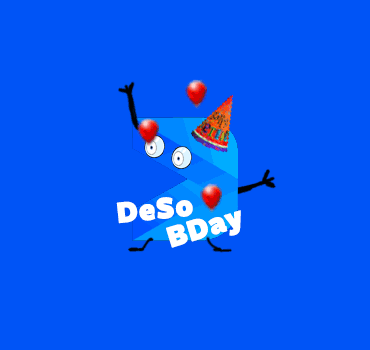 comments
SeanSlater
2022-03-01
• 10 hours ago
@MarkBentley got a Bitclout tattoo, then doubled down and got a BITCLOUT plate on his car.. then got a speeding fine for photo evidence. Now that's dedication!
clayoglesby
2022-03-01
• 10 hours ago
never forget
ItsAditya
2022-03-01
• 10 hours ago
Can we revert back old times pls?
Pretty wild history for a year... and here as a 2nd generation OG of just about 5 months now, what I've been waiting to talk with you about is going.... 👉 to put DeSo on the map over that of all social media sites combined. 👉 Showed yout countryman Randhir on a Chime-in call for an hour last night what we have... 👉Darian is going to assist with a GoFundMe page launch... 👉 met with Clay Perry for over an hour on a Zoom call a few hours ago.. 👉 👉 he's onboard to rock-n-roll with us on it all & will reach out to Alex and Nader tomorrow.. 👉 👉 he said he'd work getting Octain Fund for it all and meets with me again tomorrow.. 👉 👉 his wife Wendy and Demarie are stoked too... 👉 Mechell has entered the Universe and gone for a strole around a couple worlds with my partner Gary... 🔥 We going to get that meeting done to talk about it all for you to be a part of this next leg in the history books too? 😎
simp
2022-03-01
• 11 hours ago
Unreal list bruh
wendyleigh
2022-03-01
• 11 hours ago
Good memories 😂
znmead
2022-03-01
• 10 hours ago
epic
alinaferry
2022-03-01
• 10 hours ago
@artz still owes me that job 🤣
danielwilson
2022-03-02
• 10 hours ago
this is so good. what a year.
Highlight reel.
Ok it was fun to read having been there But A list? 😂
harmonicity
2022-03-01
• 10 hours ago
Don't forget when @chickenfriedrice stole the spotlight
ASG
2022-03-01
• 10 hours ago
BRUH
Absolutely wild and awesome you did all this! - Coming up on 5 months for me but seems like years with having arrived early October and I litterally moved in to live here, day in and day out every day since... Now, if you haven't seen the next year-leg of DeSo, the post I just commented to Aditya in this thread will give you a pretty good hint 😊 See DeSo 2022 here... 👉
https://bitclout.com/posts/0a6bf442a2e660d5ab630be6e6f8d7589e25cd49a144a6155fcec1815ee6818f
Go To Main⬇️Feed for 3D VR Bio... CLICK > @ECOE Go To 3D Main⬇️Menu CLICK >
https://clout.link/4eznjai
DeSo Long🖖And Prosper 😎
This is a solid post. Deserves 10k diamonds...minimum!
Wow. Talk about a trip down memory lane. So happy I was here for all of it.
The good old days…
200k words!??? Lmao that's literally more than Wealth of Nations… guess I can stop telling people I'm not a reader lol
Bring me back. Such a better time.
gold
Omg so much fun… I can attest to most of those!